Hart and Miller-Meeks talk pandemic, healthcare in Thursday night debate
They are running to represent Iowa's 2nd Congressional District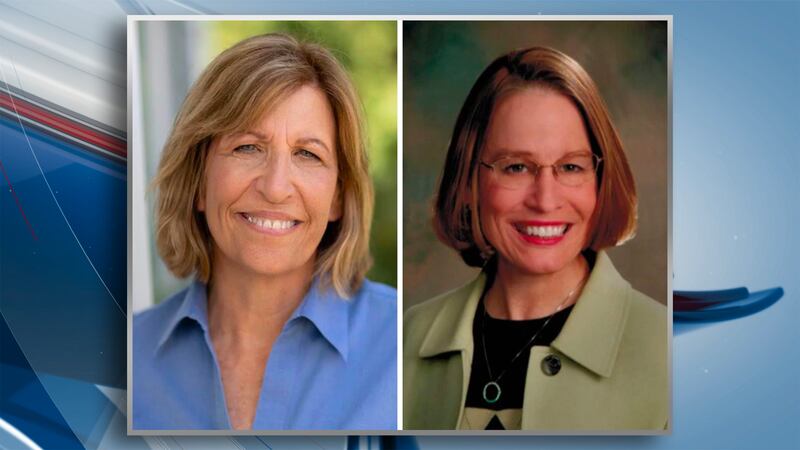 Published: Sep. 2, 2020 at 6:01 PM CDT
(KWQC) - Candidates vying to represent Iowa's Second Congressional District faced off Thursday night in a debate hosted by KWQC TV6 and The Quad-City Times.
Republican Mariannette Miller-Meeks and Democrat Rita Hart are running to fill the seat of Dave Loebsack, a Democrat who has held the seat since January 2007. He announced in April 2019 that he would not seek reelection once his term ends in January 2021.
During Thursday's hourlong debate, Miller-Meeks and Hart debated such topics as COVID-19 response, whether there should be another stimulus bill, healthcare, racial inequality, and agriculture.
Here are some of the answers candidates gave during the debate:
A recent poll shows 47% of Americans believe the upcoming election is not likely to be "fair and honest." What is your reaction to that were wondering and what should be done to improve that confidence, what is your message to voters who may not have confidence in our election system right now?
Miller-Meeks: I think the most important thing we can do, number one, is to be available, to be accessible, whether that's in our current COVID-19 world of being virtually available, but to be available, to be accessible, to listen, to be willing to meet with people on their own ground. And I think that you can do a lot to help to smooth some of those ruffled feathers if you will, and some of the differences that we have. We all have common goals and that is to make Iowa a better place to live, work, and raise a family. I did that in the state senate, and as a senator during COVID-19, I met with people, either on the phone or virtually or out in the community, in order to try to help them navigate through the pandemic, through stimulus through, personal protective equipment and unemployment. We had a tough job to do as we navigated through that, but we able to do that by being willing and able to meet with any person given the current guidelines, through the pandemic but to meet with them and really listen and be proactive and act upon what we heard.
Hart: It's really troubling that we have such a division and that people don't have trust in the system, and so that's one of the things that I talked about that, I think, but I would love to have be the first the first bill that I get to vote on in Congress is an anti-corruption bill because people don't have faith in the system, they don't think their vote counts. They're, they're worried or they don't believe that public officials are there for the right reasons, that they're there for their own personal gain. Rather than to be for the working for the people. So, I'd like to see us ban members of Congress from ever becoming lobbyists. I'd like to see us ban members of Congress from holding individual stocks. I'd like us to do something about campaign finance reform. We've got to get the money out of politics. And I think that we should be working on getting rid of the gerrymandering because when these districts are drawn in such spiderweb fashion, people don't think their vote counts, and we have to change that.
Data compiled by the New York Times now indicates Iowa has the lowest average rate of coronavirus testing in the U.S. The Times reports testing in Iowa is "far below recommended levels" needed to mitigate the spread of the coronavirus. What should Congress do to ensure more testing?
Miller-Meeks: We had a little hiccup as you know when the COVID-19 first came here, and the testing was first available through the CDC and the FDA. So we had a little bit of a lag time, but then testing is ramped up and, as I said, I think there's over a million tests per day now being conducted, but we do need to continue to make sure we have the appropriate reagents that we work with our laboratories both our state hygienic lab, our private laboratories and public laboratories that we work with all of our local public health officials. we have 99 counties each of them has a public health official, and that we provide them the proper guidance and proper testing. there is some quicker, faster, result testing that's available now. And as I said, we just opened up another test site in Ottumwa this week. So, we need to continue to have broad-based testing, multiple levels of testing, make it available, make sure people understand that the testing is available in their area, make it easy to access, and easy to apply for testing. You can also get tested at your local provider's office or federally qualified health care centers, such as you have here in Davenport, and I think that's available to most individuals.
Hart: Absolutely that the testing has been a problem throughout this experience, you know. I was talking to some folks in Fort Madison who are complaining, or who were talking about how long it took to get the results. And that's not helpful when you're waiting three or four days to get test results. And in the meantime, you can't go to work or you are deciding whether you should be quarantined or not, that's, that's affecting people's bottom line. And it's really important that we have the tracing that follows, and so it's so important that we get this testing right, that, first of all, that people know where to go to get tested and I think we've done a pretty good job of that. But once they do get tested they have to get the results in a timely fashion, and there has to be tracing in order to do a good job of keeping the infection rate down because we know how to keep people from infecting others. And so again, we've just really need to follow the science and do the things that we know are going to bring this rate down so that we can get this economy going again.
Do you think there should be another stimulus bill? What needs to be included and what should be left out?
Hart: We know that this relief package needs to be passed. This coronavirus is still going. We have so many people who are being negatively affected, so many people that have lost their jobs who, no fault of their own, who need the relief now. And it's really disappointing that we know Washington can do this we saw it happen right that first relief package was passed in a timely fashion. So, we know that Washington can get this done. And so, it's disappointing that it's taking so long. We need to get relief to the unemployed so that they can pay their bills so that landowners aren't evicting people that are adding to the homelessness. We know that it's affected certain sectors of the economy more than others so the retail, the entertainment The, the small businesses across the across our district and across the state, need the kind of relief that our cities and our counties so that they don't have to lay off police officers and firefighters. We know that we've got to get this Relief to People as quickly as possible.
Miller-Meeks: Well, we know that the first relief package tremendously helped a lot of people. I helped people navigate through stimulus checks through unemployment also through PPE, protection loans that were forgivable loans and we know that as the pandemic has continued this virus has not acted like other viruses, so it has been very unusual, very resilient. Typical viruses go away and are seasonal, but this one is continued to linger on. And so we know that we need to have continued relief for those who are unemployed, who may not be able to go back to the job that they had before, or a business that is not surviving the pandemic if it's been forced to close down, so unemployment benefits need to be in the next relief package. Whether or not we have a stimulus, I think that's something that would be beneficial. Protections for those who are out of a job and do not have access to that, as well as help for the airline industry and the hospitality industry. So we need to continue to work through that, and it has been disappointing that Congress has not been able to come together on a package, but I think that'll happen shortly.
The pandemic has brought healthcare back to the forefront in political conversation. This as a new supreme court justice could affect the future of the Affordable Care Act. Where does Congress go next if the Affordable Care Act is struck down by the US Supreme Court?
Miller-Meeks: Well, we don't know what will happen in the Supreme Court. We know that the ACA has survived challenges to the Supreme Court before. but I am aware of representative Greg Walden who had put forth bills in order to have protections for people with preexisting conditions and those bills that were put forth to be able to make sure people had coverage, should the Affordable Care Act be struck down, that they would have a protection for preexisting conditions and still have health care, but that brings us to what Congress should be doing right now and both parties should be coming together, planning ahead, and trying to determine what they can do, should the Affordable Care Act, be struck down. health care, it needs to be affordable, it needs to be portable, it needs to be accessible and it needs to be able to give us choice. I have long argued for this, and the ACA failed us in that regard. The Wall Street Journal published this week that employers' coverage of premiums is over $21,000 a year, the employee's portion is over, $5,500 a year. So, it has gone up over 33% since it was enacted and so still, we have this problem with healthcare and is still an issue. So, if it's such a great bill, why are we struggling to have this issue now? but they need to come together, come up with a plan, depending on what the Supreme Court challenge happens.
Hart: This is a big difference between senator Miller-Meeks and myself in that she has been on the record for a long time Being in favor of repealing the health care plan that we have right now which withdrawal millions of people off their insurance. To me, that's just the wrong approach. We ought to be taking what we have now and improving it. And so, while I definitely agree that we have got to work on bringing down the price of premiums of copays or deductibles, we've got to work on lowering our prescription drug prices. So that's the approach that we should be taking is to not repeal something instead let's improve it. And, and while you know my opponent says that she has a plan that she wants to protect existing conditions, the fact is there's been four years that have gone on here where the Republicans could have put a plan forward. They have not done it. That just makes me think that it really doesn't exist because it has to be negotiated out. And so, the important thing to me is that we don't go backward.
Miller-Meeks: I have been on the record for reform of the ACA, there's only one person on this stage, who has voted to deny coverage for preexisting conditions, and that's Rita Hart. and you don't have to take my word for it you can take the Des Moines Register, or you can take Fred Hubbell opinion about that in the Democrat Party.
Hart: So that is just simply not true. I voted for legislation that did not take healthcare away from one single person. That was a Republican plan that created a program that existed that would help the constituents in my district who could not afford, who are not eligible for the subsidies on the exchange, and could not afford the premiums. So, it was the only plan that was put forth by Republicans, every single Republican voted for it under the dome. And it was the best thing for my constituents. My question is, would my opponent vote for that? And that program exists today, would she take it away from those?
Miller-Meeks: Your party said that it would deny coverage for preexisting conditions. Your gubernatorial running mate (Fred Hubbell) said it would deny coverage for preexisting conditions you voted for it, and said you are proud to vote for a bill that would deny coverage for preexisting conditions. I have never voted for such a bill and have increased access to care.
Research suggests racial and socioeconomic achievement gaps are widening because of COVID. How can we bring students back up to speed right now, and how can we make a comeback once the pandemic is over?
Hart: So important that we get students back in the classroom successfully, and that's why it's been particularly troubling that we haven't been able to get at the infection rate in the general population down. That just puts more pressure on school districts to be able to do this safely and to continue to provide an education for everyone. You know, when the schools first shut down in the spring, I spent some time talking, making calls across the district, talking to principals and superintendents and teacher leaders, and it was clear that not every district is the same. And some districts have a great access to high-speed internet, which is a huge component of getting the education out to everybody. And so, we've got to provide some flexibility, and I think that we were a little short-sighted in recognizing what kinds of things would help school districts be more successful. My hairdresser has her first year of teaching this year. I think that's such a tough time to get started, and she's doing the online learning and she needs more tech support we need more nurses, we need more personal equipment. Those are the things that would truly help education.
Miller-Meeks: Although children are not as affected, although they can contract the virus, they're not as affected, they don't get as ill and the mortality in children is extremely low, unlike influenza. The real tragedy of COVID-19 and children is educational gaps, and we've seen that recently with reports that there's a loss of almost a grade level even though most schools did not close until March. So that's been a tremendous issue, and it's why I've passed a bill for broadband. The pandemic has underscored the need for broadband for internet connectivity, for it to be a high-speed internet and available all throughout rural Iowa. It's in-person learning, we found not all students learn the same through virtual learning. So, in-person learning in school is extremely important. And then we need to provide guidance as health professionals, as public health professionals on how to protect students, and also how to protect the teachers and the staff. And then I'm just going to put a plug. It's influenza season so please get your flu vaccine. We already have a one pandemic, which is enough. So, I would encourage people to get their flu vaccine if you're sick don't go to school, stay home, and then when a vaccine is available, COVID-19. I would strongly encourage getting it.
Considering the current tone of racial inequity, let's recognize the fact that every one of us you see here tonight are white. What words do you have for the black voters watching you right now who don't feel like they're being represented tonight?
Miller-Meeks: Well, as I mentioned, I grew up in a family where no one had gone to college. And so, there was no mentoring, there was no guidance. And so, I know what it's like to be poor and white I don't know what it's like to be black or to be a person of color. And I think that sometimes the best thing we can do is to try to put ourselves in other people's shoes and then move forward. And culture matters and that comes from the top, so in my experiences in dealing with patients as a nurse and as a doctor and in the military, dealing with people from a variety of different circumstances in areas and countries, I think, to try to put yourself in their shoes to understand where they come from, what culture they are and how that influences how they may perceive something that you think is a minor point or is a slang that you grew up with, how it may affect them personally on a level, because of their background and experiences, and I think to have that compassion and that vulnerability will help all of us. But do get hope from everyone that all of us can achieve it we're allowed to have more potential realized.
Hart: So we have to do better on this, there's no doubt about it. We've we know that by watching what happened with the with the protests, with the videos that we've seen, that with the conversation around this, the inequities that exist, that we've got a long ways to go. And so again, I think that the first place to start is by listening is by recognizing that we have a problem and that the only way we're going to solve this problem is if we listen to the people who are most affected by it. And so it's really important that we reach out, that we provide avenues for that kind of a conversation, that we make sure that everything that we do, takes into account, how are we reaching out to the people who are not represented in this effort that we're on? So, I think that it's it comes from really doing a good job of bringing people to the table and really listening to what they have to say and then come away from that table with certain things that can be done. That truly would make a difference.
President Trump's trade renegotiations created some issues in Iowa's agriculture economy. But even hurting farmers say China has been a bad-faith trade partner for too long. And now we have a new trade deal with China, and the country recently made its largest-ever purchase of corn. Was the pain suffered by Iowa farmers over the past few years' worth it for the long-term?
Hart: I'm a farmer and I think that it's been a really tough road the last four years, and I think that we could have done this a lot differently. Yes, we need to hold China accountable, China is a bad actor. But it was, I think, the wrong decision to go in on our own, instead of align ourselves with other countries with similar interests in order to get a better trade deal. And so, we've been waiting, and while we're talking here as if it's over it is not over. We've lost markets, our prices are not where they should have been. We've had a lot of pain over the last three or four years, and the taxpayers have had to help make up the difference for us. And so that's unacceptable to me. I think that we ought to have a lot stronger trade policies in order so that we don't have to have that aid, and I think we could have done, by aligning ourselves with our are similar interested other countries, in order to get this done.
Miller-Meeks: Well, it's actually interesting because farmers for several years have told me about the trade practices in China and the unfair trade practices. And this precedes the election of President Trump. And they had wanted someone to take on China. So whether it was currency manipulation, whether it was dumping, whether it was theft of intellectual property, they felt that China was a bad actor, and China was not following the rules and regulations of the World Trade Organization. And both administrations, both Republicans and Democrats, were reluctant because of our export market in the large marketplace, for in China for American products. And so I think that the farmers that I've talked to have absolutely felt that the short-term pain and it was pain there, make no mistake. It's been challenging for our farm farmers through the trade deal, the tariffs, then the weather, and then the pandemic, but they have felt it was worth the short-term pain in order to get these trade deals negotiated. And that includes USMCA and the other trade deals with South Korea and with Japan.
Four years ago, this district went for both Republican Donald Trump for president and Democrat Dave Loebsack for Congress. Why is your party the best party to represent this district in Congress for the next two years?
Hart: I would talk about what the priorities that I have for this district, which is that, you know, I've been talking to people all across this district about the issues that matter to them. And, and that's what's important to me, it's, it's about how I can best represent them, not necessarily how the party can best represent them. It's about listening to them, it's about making sure that their voice is going to be heard, and that I'm going to work as hard as I can to make sure that I'm listening, that I understand the problems and that I'm going to go to Washington and work across party lines to actually get things done. I think people are very tired of the bickering, the fighting back and forth, it's affected their families and their friends. They are looking for leadership that brings us together across party lines. You know I was lucky to go to the Senate at a time when I had a leader who said, you know, once you get here, it's time to put the campaign behind and get to the act of governing. And that's the important thing that I want people to know.
Miller-Meeks: I think that the party is a label, and both parties have platforms and you can look at the platforms to see what the platforms represent. But I'm a candidate running a race, not running a party. We started this campaign last October, talking about healthcare. Healthcare that's affordable, that's accessible, that's portable, but still allows you to have choice. Skills training, trades apprenticeships that will prepare our workforce for the 21st century. Trust and accountability and government. Fair and free trade deals. And then we've added to that, COVID-19. So when it comes to addressing those challenges, having someone that's a doctor, a former director of the Department of Public Health, and a 24-year military veteran, a small business owner, I think brings attributes and adds assets that are sorely needed in Congress now. As a state senator, I put forth policies that came from both parties. If they were good health policy, they made sense. And they would better the lives of Iowans I made sure that they passed, and I'll continue to bring that same spirit of compromise, compassion, and listening, and acting to Congress if I'm elected.
The second congressional district covers most of the southeastern part of the state including Iowa City. Appanoose, Cedar, Clarke, Clinton, Davis, Decatur, Des Moines, Henry, Jasper, Jefferson, Johnson, Keokuk, Lee, Louisa, Lucas, Mahaska, Marion, Monroe, Muscatine, Scott, Van Buren, Wapello, Washington, and Wayne counties are included in this district.
The first debate was hosted by KWQC's sister stations KCRG and KYOU in partnership with The Gazette. That was held on Oct. 8.
Copyright 2020 KWQC. All rights reserved.