TV6 First Alert Day: Snow blog
Updates throughout the day on the wintry weather across the QCA
Published: Jan. 14, 2022 at 12:26 PM CST
|
Updated: Jan. 15, 2022 at 11:28 AM CST
QUAD CITIES, Iowa/Ill. (KWQC) - A First Alert Day is in effect through early Saturday for moderate to heavy snow. Click here for the latest forecast. If you have videos or photos you'd like to share, you can submit them by clicking here.
SATURDAY MORNING: Here are a few snow totals.
| | |
| --- | --- |
| Keokuk, IA | 8.0″ |
| Burlington, IA | 6.0″ |
| Mount Pleasant, IA | 5.5″ |
| Muscatine, IA | 5.0″ |
| QC Int'l Airport (Moline, IL) | 4.6″ |
| Dubuque, IA | 1.9″ |
5:40 PM: Snow encompasses most of the TV6 viewing area, with the lighter snow falling in northwestern portions of Illinois. As air temperatures and road temperatures cool down now that the sun has set, road conditions will likely go downhill quickly. In fact, more and more roads and interstates on both sides of the Mississippi River are becoming partially to completely snow covered.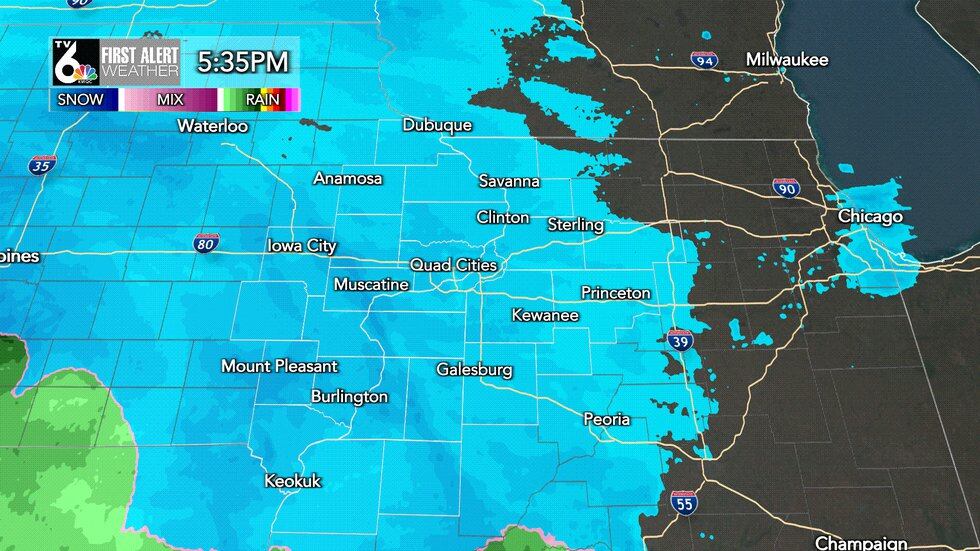 5:15 PM: Meteorologist Kyle Kiel has an update on road conditions at 5 PM. More roads are becoming partially or fully covered. Snow plows are hard at work to clear roads and lay down salt.
4:30 PM: Iowa and Illinois DOT plows are out working on the roads as we head into the early evening. Interstates in and around the QC metro don't look too bad right now (this photo is from northwest side of Davenport on I-80), however as temperatures drop and the snow rate picks up conditions will likely get worse through the evening.
3:30 PM: Winds have picked up to 10-20 mph and there have already been reports of country roads seeing drifting snow.
3:00 PM: Snow has reached most eastern counties. Most areas have reduced visibility from the snow, with average visibility at 5 miles or less.
2:30 PM: The highest impacts to travel will be in central Iowa, where 6 to 10″ of snow is expected. Still, moderate impacts are expected in southeastern Iowa and west central Illinois. The worst of the snow will be moving through during the evening hours.
2:10 PM: Doppler Radar shows most of the TV6 viewing area is getting light snow. There is some dry air eating away in northwest Illinois, where we continue to anticipate a sharp cut-off in snowfall totals.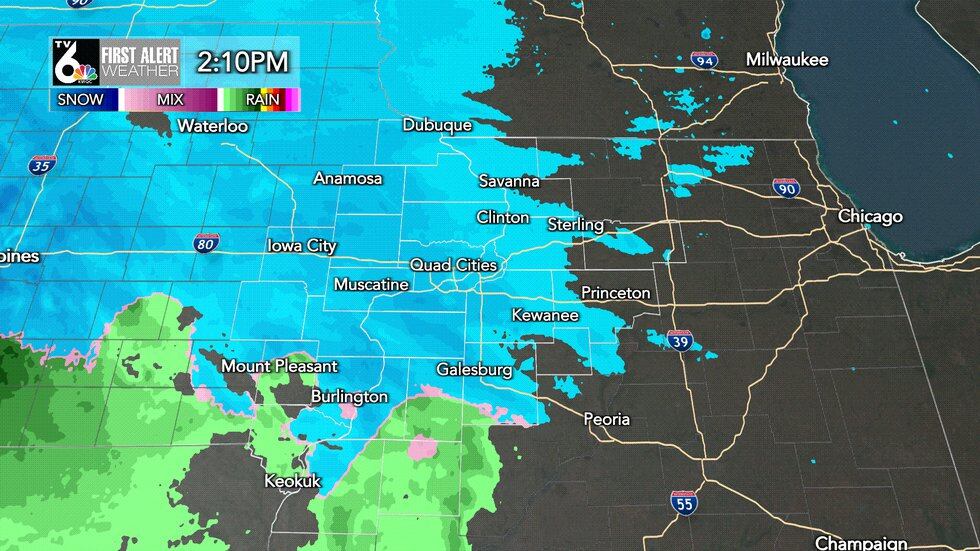 Road conditions in Iowa continue to go downhill. This is a view form an Iowa DOT snow plow, showing partially covered roads on Highway 62 just north of Maquoketa.
1:20 PM: Doppler Radar shows snow continuing to fall, mainly from the Quad Cities and locations to the west. Click here for Interactive Radar.
As the snow falls, visibility is being reduced quite a bit. Be sure to turn the headlights on in your vehicle to make the vehicle more visible on the road.
Traffic cams in the QC metro show no issues on the roads, yet.
1:00 PM: Here is a video forecast update from TV6 News at Noon from Meteorologist Kyle Kiel:
12:35 PM: Roads are becoming partially to completely snow covered west of the Quad Cities. Road conditions will continue to deteriorate throughout the afternoon and evening. Heaviest snow is expected to fall west of the Mississippi River.
12:20 PM:
Here's the latest radar just before 12:30 p.m. Click here for Interactive Radar.
The snow began falling outside KWQC-TV6 around 11:30 this morning.
Your First Alert Forecast from Meteorologist Kyle Kiel: A First Alert Day is in effect for moderate to heavy snow today into the evening and early Saturday. There has been a minor shift to the east in the track of the system which will bring higher snowfall amounts into the QCA. The snow begins to move into Illinois around lunchtime and will continue to pick up through the evening hours.
Travel will become difficult quickly after the snow falls. As of now snow will wrap up overnight and after all is said and done the QC will likely finish up between 3″-5″ with areas to the west picking up 5″-7″ and sharp drop off to and inch or two to the east. Winds will pick up tonight so some blowing and drifting could be an issue for those out early Saturday morning. Our weather pattern will quiet down behind this clipper and temps will be in the 20s this weekend.
Copyright 2022 KWQC. All rights reserved.