50th RAGBRAI to pass through West Liberty, Muscatine, Buffalo
Published: Mar. 13, 2023 at 11:54 AM CDT
DAVENPORT, Iowa (KWQC) - Before the 50th RAGBRAI ride ends in Davenport it will make its way from Coralville through Iowa City, West Liberty, Muscatine, Montpelier and Buffalo.
Muscatine is the meeting town for the final day of the race. Ride Director Matt Phippen said the stretch between Muscatine and Davenport will give riders a longer view of the river they worked all week to reach for the traditional front-tire dip.
"This year, I wanted that same feel, to hug the river as much as possible," Phippen said. "For that entire stretch out of the corner of their eye, they're going to see the river that they're going to eventually dip into."
Vendors and support vehicles will be lined up inside Riverside Park as riders have the opportunity to take a break from the ride and/or dip their tires into the Mississippi River before beginning the final 27-mile ride along the river up to Davenport, according to Muscatine city officials.
"We have been working hard for the past several months to have RAGBRAI back for the first time since 2016," Muscatine Mayor Brad Bark said. "We have a lot of work ahead of us but I know this community is ready for the challenge."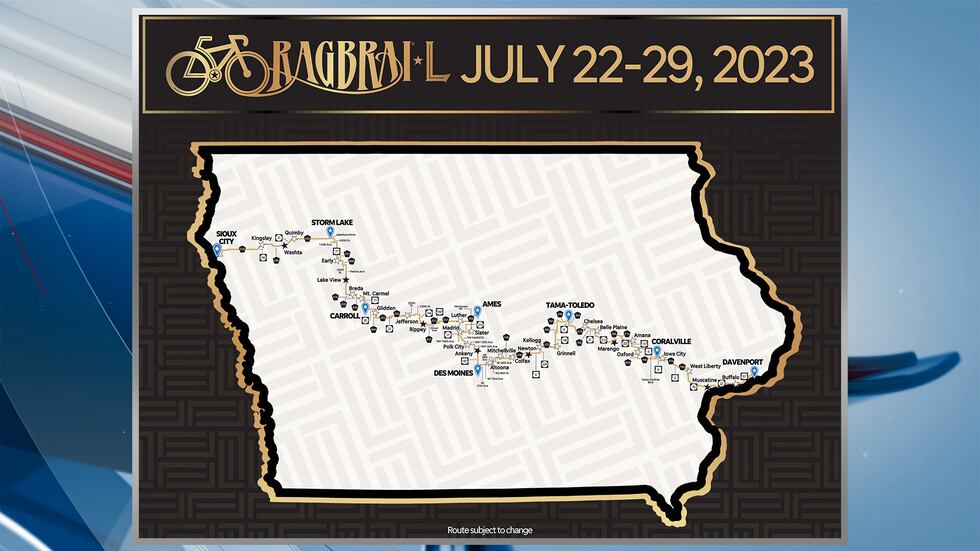 This year's RAGBRAI route will start in Sioux City on July 23 taking riders through 500 miles of Iowa. When the week is over on July 29 cyclists will dip their tires in the Mississippi Davenport. It marks the sixth time the annual ride has ended in the city since its inception in 1973.
Muscatine was the ending town for RAGBRAI in 1976, 1986, 1995, 2001, 2006, 2016.
Davenport RAGBRAI officials announced on March 9, the theme for the ride is "Be Bold. Ride Gold."
For all pass-through and meeting towns visit the RAGBRAI website.
Copyright 2023 KWQC. All rights reserved.