North Korea: Latest missile simulated nuclear counterattack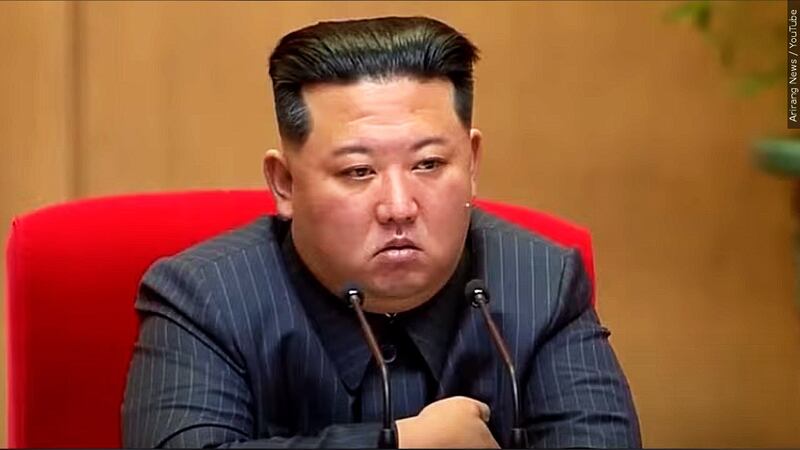 Published: Mar. 18, 2023 at 10:14 PM CDT
|
Updated: Mar. 19, 2023 at 10:30 PM CDT
SEOUL, South Korea (AP) — North Korea said Monday it simulated a nuclear attack on South Korea with a ballistic missile launch over the weekend that was its fifth missile demonstration this month to protest the largest joint military exercises in years between the U.S. and South Korea.
The North's leader Kim Jong Un instructed his military to hold more drills to sharpen the war readiness of his nuclear forces in the face of "aggression" by his enemies, state media reported.
The South Korean and Japanese militaries detected the short-range missile being launched Sunday into waters off the North's eastern coast, which reportedly came less than an hour before the U.S. flew long-range B-1B bombers for training with South Korean warplanes. The North characterizes the U.S.-South Korea exercises as a rehearsal to invade, though the allies insist they are defensive in nature. Some experts say the North uses the exercises as a pretext to advance its weapons programs.
Pyongyang's official Korean Central News Agency said the missile, which flew about 800 kilometers (500 miles), was tipped with a mock nuclear warhead. It described the test as successful, saying that the device detonated as intended 800 meters (yards) above water at a spot that simulated an unspecified "major enemy target," supposedly reaffirming the reliability of the weapon's nuclear explosion control devices and warhead detonators.
The report said the launch was the final step of a two-day drill that also involved nuclear command and control exercises and training military units to switch more quickly into nuclear counterattack posture, properly handle nuclear weapons systems and execute attack plans.
The exercise was also a "stronger warning" to the United States and South Korea, who are "undisguised in their explicit attempt to unleash a war" against the North, KCNA said.
Photos published by state media showed Kim walking through a forest with his daughter and senior military officials and a missile the North described as a tactical nuclear weapon system soaring from the woods spewing flames and smoke.
Saying that his enemies are getting "ever more pronounced in their moves for aggression," Kim laid out unspecified "strategic tasks" for further developing his nuclear forces and improving their war readiness, KCNA said. This indicated that the North could up the ante in its weapons demonstrations in coming weeks or months.
Jeon Ha Gyu, spokesperson of South Korea's Defense Ministry, said it's clear North Korea with its ramped-up testing activity is making "considerable progress" in nuclear weapons technology. He did not provide a specific assessment about the North's claim about the successful warhead detonation.
North Korean photos indicated the latest launch was of a solid-fuel missile apparently modeled after Russia's Iskander mobile ballistic system that the North has been testing since 2019. The missiles are built to travel at low altitudes and be maneuverable in flight, which theoretically improve their chances of evading South Korean missile defenses.
While these missiles have been mostly fired from wheeled vehicles, North Korea has also tested them or their variants from railcars, a submarine and a platform inside a reservoir. Photos of the latest test suggested the missile was possibly fired from a silo dug into the ground, highlighting the North's efforts to diversify its launch options and make it harder for opponents to identify and counter them.
South Korea's military said the launch took place at a mountainous northwestern region near Tongchangri, which hosts a site where the North conducted long-range rocket and satellite launches in previous years.
North Korea likely has dozens of nuclear warheads, but there are differing assessments on how far the North has advanced in miniaturizing and engineering those weapons so that they could fit on the newer weapons it tested in recent years.
While the North after six nuclear tests may be able to place simple nuclear warheads on some of its older systems, like Scuds or Rodong missiles, it will likely require further technology upgrades and nuclear tests to build warheads that can be installed on its more advanced tactical systems, according to Lee Choon Geun, an honorary research fellow at South Korea's Science and Technology Policy Institute.
Sunday's short-range launch was the North's fifth missile event this month and the third since the U.S. and South Korean militaries began joint exercises on March 13. The allies' drills, which are to continue through Thursday, include computer simulations and their biggest springtime field exercise since 2018.
The North so far in 2023 has fired around 20 missiles over nine different launch events. They included short-range missiles fired from land, cruise missiles launched from a submarine, and two different intercontinental ballistic missiles fired an airport near Pyongyang as it tries to demonstrate a dual ability to conduct nuclear attacks on South Korea and the U.S. mainland.
The latest ICBM test last Thursday preceded a summit between South Korean President Yoon Suk Yeol and Japanese Prime Minister Fumio Kishida, who agreed to resume security dialogues and take other steps to improve their oft-strained relations in the face of North Korean threats.
North Korea already is coming off a record year in testing activity, with more than 70 missiles fired in 2022, as Kim accelerates his weapons development aimed at forcing the United States to accept the idea of the North as a nuclear power and negotiating badly needed sanctions relief from a position of strength.
In response to the most recent ICBM launch, the U.N. Security Council scheduled an emergency open meeting Monday morning at the request of the United States, United Kingdom, Albania, Ecuador, France and Malta. Security Council resolutions have long banned North Korean ballistic missile activity, but permanent council members Russia and China have thwarted punishment or further sanctions in recent years.
The U.N. Security Council held an informal meeting Friday at which the U.S., its allies and human rights experts shone a spotlight on what they described as the dire rights situation in North Korea. China and Russia denounced the meeting as a politicized move.
North Korea's U.N. Mission called the meeting about "our non-existent 'human rights issue'" unlawful. It also said the U.S. held Friday's meeting "while staging the aggressive joint military exercise which poses a grave threat to our national security."
___
Associated Press writer Edith M. Lederer at the United Nations contributed to this report.
___
Find more AP Asia-Pacific coverage at https://apnews.com/hub/asia-pacific
Copyright 2023 The Associated Press. All rights reserved.