No Place to Call Home: Redlined
Discriminatory housing polices in the Depression have lasting effects in Davenport
Updated: Mar. 23, 2023 at 10:00 PM CDT
DAVENPORT, Iowa (KWQC) - The stroke of a red pen in the 1930s set in motion discriminatory housing policies whose effects have lasted generations in Davenport.
Redlining refers to literal red lines drawn around neighborhoods during the Depression when the federal government asked real estate professionals and community leaders to map their cities for the purpose of issuing loans. "A" districts, drawn in green, could receive the highest investments. "D" districts, drawn in red, were undesirable and often qualified for no loans because residents were Black.
One redlined Davenport district was north of the Village of East Davenport. In their assessment, city leaders wrote:
"This is known as one of 'the colored districts.' No loans would be made in this section. The colored element seem to be at a standstill from the standpoint of growth."
In the district to the west, a neighborhood bisected by Kirkwood Boulevard and Eastern Avenue, assessors wrote frankly: "Colored section injures this property."
In a redlined neighborhood south of St. Ambrose University, city leaders described the area as "a colored district, and while it is not growing, it is detrimental to adjacent property."
All while lauding the presence of whites in the green desirable districts: "Very fine class of people, mostly of German extraction, live here," southwest of Vander Veer Park.
These reports were recently resurrected by researchers at four universities who combed the National Archives. The University of Richmond compiled a mapped database of redlined communities, including Davenport, that showed the city's original redline maps and descriptions.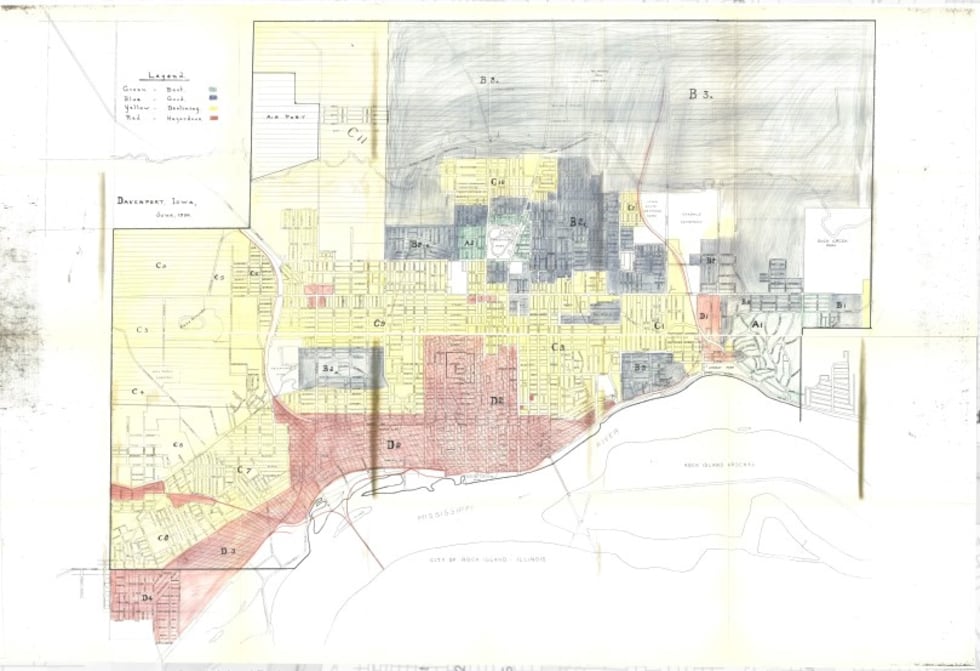 In all, 13% of the city of Davenport was redlined.
"They graded neighborhoods from red to green, like stop and go. And just like a traffic signal, red means stop, said Latrice Lacey, the director of Davenport's Civil Rights Commission. "So they were not insuring homes or issuing mortgages in those neighborhoods."
Those areas are still suffering today.
Everlasting trouble
"Issues of generational wealth and racial inequity are completely bound up in the story about where we are in evictions today, and this goes back many years," said Nick Smithberg, executive director of Iowa Legal Aid, whose clients people in a housing crisis.
An overlay of Davenport's modern census tracts with the neighborhoods redlined in the 1930s shows Blacks in those areas are still disproportionally economically depressed, and more likely to be evicted, according to Legal Aid.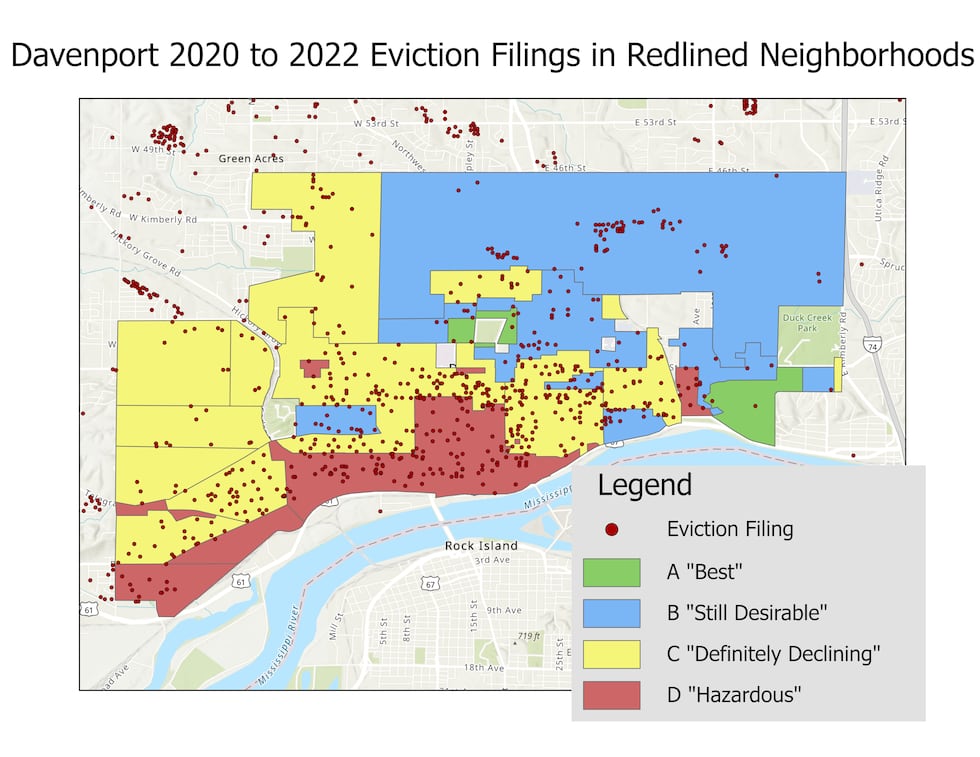 Blacks in formerly redlined districts still make far less than in other non-redlined districts, and far less than whites in the same areas. In the redlined district near The Village, for example, Black workers today make a median income of $29,868, according to census data. Whites in the same district make $51,985.
The lowest Black income rates in Davenport today fall west of Harrison Street and south of Locust, where the median Black income is four times lower than whites, according to DataUsa, which analyzes public figures to compile searchable databases of cities, counties and regions.
"Redlining directed both public and private capital … away from African American and immigrant families," researchers wrote in the Richmond report. "As homeownership was arguably the most significant means of intergenerational wealth building in the United States in the twentieth century, these redlining practices from … decades ago had long-term effects in creating wealth inequalities that we still see."
The gap also applies to homeownership, a metric economists use as a bellwether for overall financial health.
The gap between Black and white homeownership in Davenport is getting worse, according to a study of almost 300 cities by the real estate website Homeowner Today.
Only 22.6% of Davenport's Black adults own their home, according to census data – down 15% since 2010.
Copyright 2023 KWQC. All rights reserved.