First Alert Day Friday for widespread severe storms
A Particularly Dangerous Situation TORNADO WATCH is in effect until 8 p.m.
Published: Mar. 28, 2023 at 7:26 PM CDT
|
Updated: Mar. 31, 2023 at 12:03 PM CDT
DAVENPORT, Iowa (KWQC) - Friday will be a day to stay Sky Aware as we'll have the potential for severe weather across the entire TV6 viewing area. A First Alert Day is will be in effect from 12 p.m. to 8 p.m.
A Particularly Dangerous Situation TORNADO WATCH is in effect for the TV6 viewing area until 8 p.m.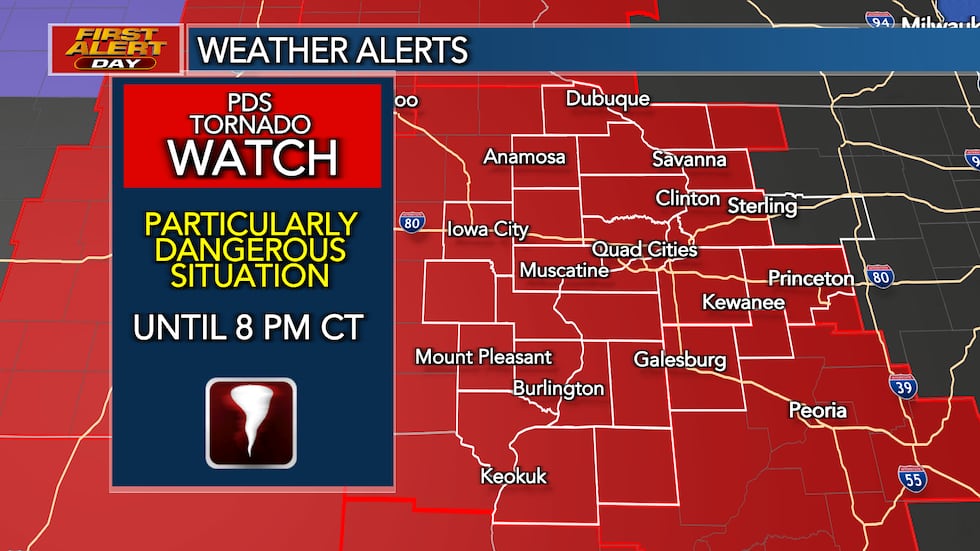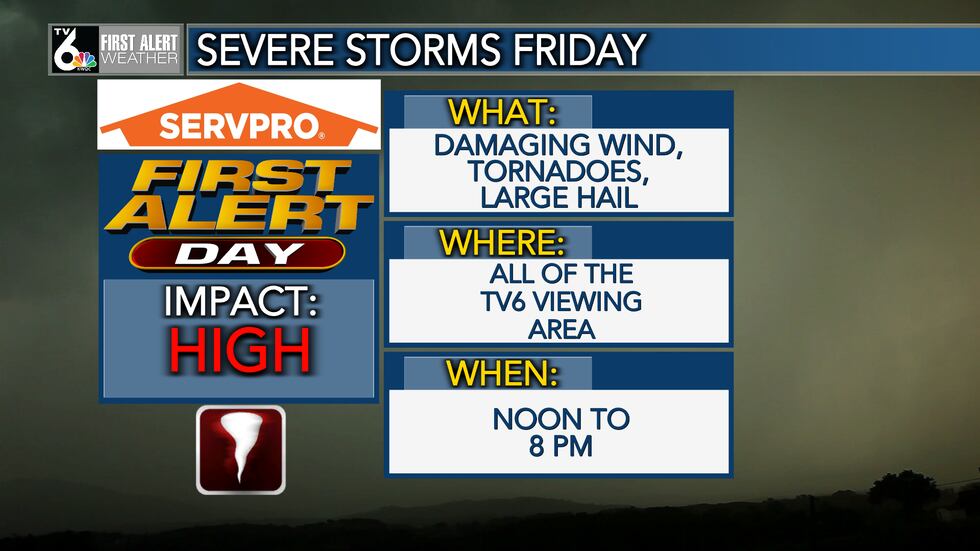 A HIGH RISK (Level 5 out of 5) has been issued from the Quad Cities and areas south and southwest for the increased potential of tornadoes. A couple long-track, stronger tornadoes are a possibility. Moderate Risk (4 out 5) remains in place across the rest of the TV6 viewing area.
The primary threat will be damaging wind and tornadoes, with large hail a secondary threat.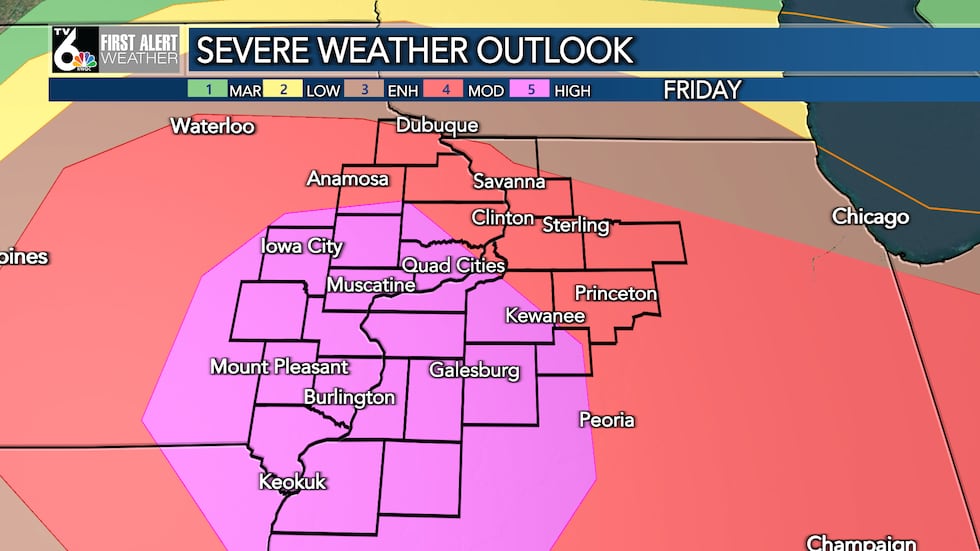 A front will be the driving force as it slams into warm and humid air that will be as warm as 70° or more in spots. Dew points will be in the 50s to lower 60s. Two rounds of severe weather are possible. There could be a rogue band of storms early in the afternoon producing severe weather, but the main and more potentially destructive line will be moving from west to east between 4 and 7 p.m., with the line right over the Mississippi valley around the 5 o'clock hour.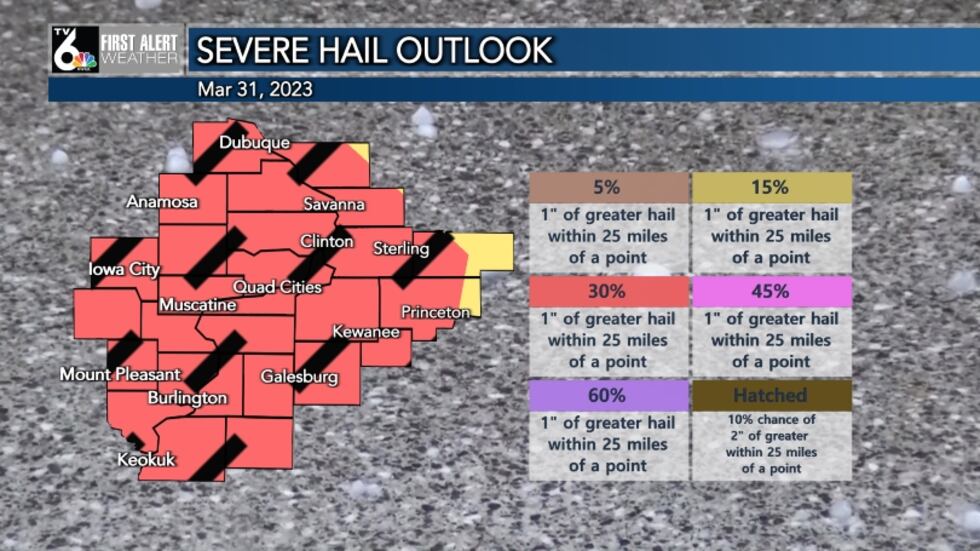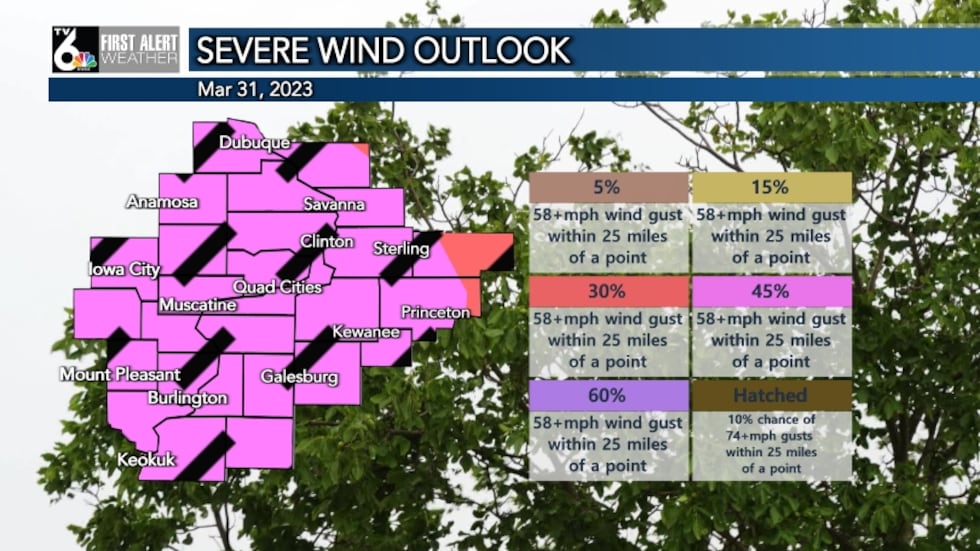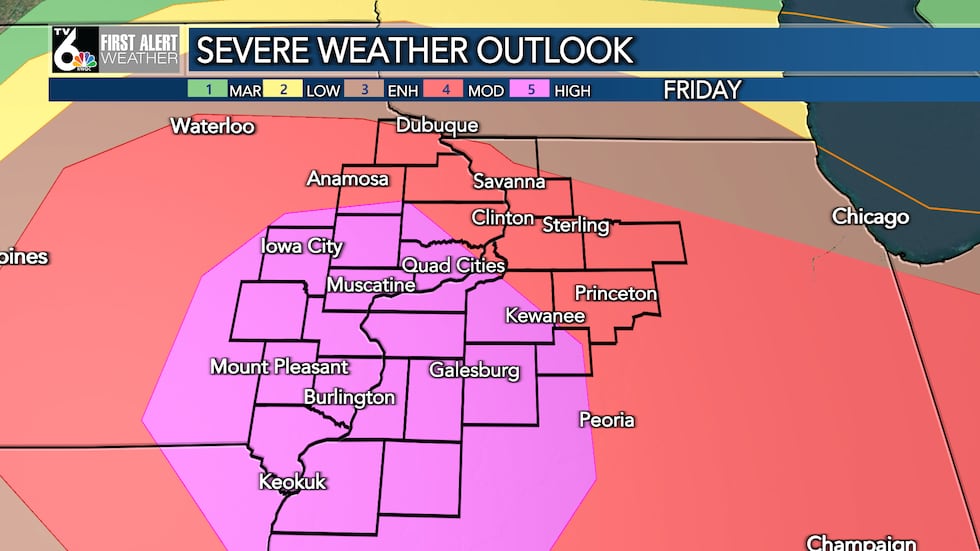 Download the TV6 Quad Cities Weather App to track the storms with us and get access to the latest forecasts.
FIRST ALERT DAYS are issued to inform you of inconvenient, hazardous, or potentially dangerous weather in our viewing area that could impact you and your family. Look for frequent updates on air, online, on our social media platforms and on the QC Weather App.
Copyright 2023 KWQC. All rights reserved.