NBA, players reach deal for a new labor agreement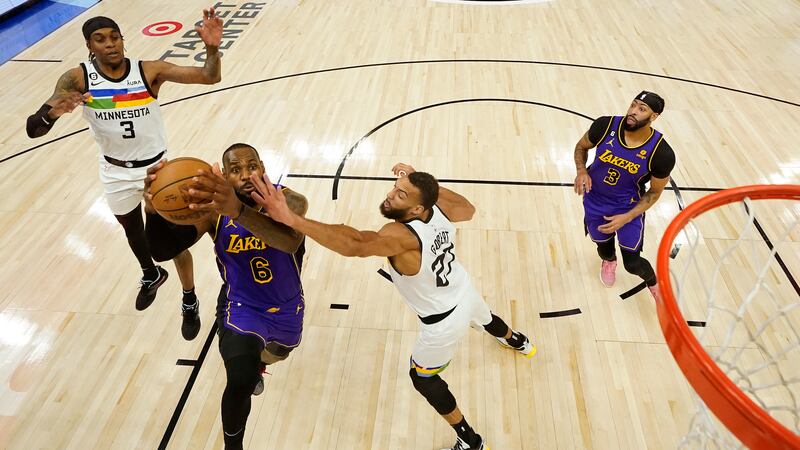 Published: Apr. 1, 2023 at 2:06 AM CDT
|
Updated: Apr. 1, 2023 at 12:09 PM CDT
(AP) - The most financially successful era in NBA history will continue uninterrupted for at least six more years, after the league and its players came to a tentative agreement on a new Collective Bargaining Agreement that will kick in this summer.
It took more than a year of bargaining, with the intensity and expectation growing in recent days, and the handshake agreement was struck in the wee hours of Saturday morning — shortly after the league intended to tell the National Basketball Players Association of its plan to opt out of the current CBA on June 30.
Instead, a deal got done, at least in principle. "The NBA and National Basketball Players Association have reached a tentative agreement on a new Collective Bargaining Agreement, pending ratification by players and team governors," was the league's only comment, coming shortly before 3 a.m. Eastern.
Technically, it will be a seven-year deal, though either side can opt out a year early — meaning labor peace is only assured through the 2028-29 season. It will also begin the era of an in-season tournament, something Commissioner Adam Silver has wanted for years.
Barring a change to the current plan, teams will be given an 80-game schedule for next season in August. Those 80 games will include "tournament" games — probably four — that will count in regular-season standings. All teams will have two more games added to their schedule eventually so the full 82-game slate is played; the two teams that make the tournament final will be playing an 83rd game that won't count in the standings.
Among other details, per a person familiar with the negotiations who spoke to The Associated Press: players will generally have to appear in at least 65 games in order to be eligible for the top individual awards such as Most Valuable Player; the maximum value of contract extensions will rise; and a third two-way contract will now be available to teams — which could potentially see roster sizes grow from 17 to 18. The person spoke on condition of anonymity because neither the league nor the National Basketball Players Association released specifics publicly.
Another new part of the CBA will be a second luxury tax level that, when reached, will keep teams from using their midlevel exception to sign players. That was a clear compromise, given how some teams wanted the so-called "upper spending limit" that would have essentially installed an absolute ceiling on what can be spent each season and help balance the playing field between the teams that are willing to pay enormous tax bills — like the reigning NBA champion Golden State Warriors — and those who aren't.
"Players lose again ... Middle and Lower spectrum teams don't spend because they don't want to," Golden State's Draymond Green posted to Twitter. "They want to lose. So increase their spending capabilities, just to increase them. They continue to cut out the middle. And this is what we rushed into a deal for?"
National Basketball Players Association President CJ McCollum, a guard for the New Orleans Pelicans, said he welcomes input from all players, but stressed, "You can't make everybody happy. That's impossible.
"You've got to be able to do what's best for the collective," McCollum said after the Pelicans defeated the Los Angeles Clippers on Saturday night. "There's 450 players and 450 different opinions, including myself. … It's about finding a happy medium in certain areas."
The new CBA won't include a return to the policy that would allow high school players to enter the NBA draft. It was discussed and has been an agenda item for months, but the rule won't be changing anytime soon — probably not for at least the term of the next CBA.
"We also appreciate that there is a lot of benefit to really having veterans who can bring those 18-year-olds along," NBPA executive director Tamika Tremaglio said in February during an NBPA news conference at All-Star weekend. "And so, certainly anything that we would even consider, to be quite honest, would have to include a component that would allow veterans to be a part of it as well."
Silver said Wednesday, at the conclusion of a two-day Board of Governors meeting, that he was hopeful of getting a deal done by the weekend — a clear positive sign. The current CBA, which took effect July 1, 2017, came with a mutual option for either the NBA or the NBPA to opt out after six seasons, or June 30 of this year.
Saturday's agreement doesn't end the process, though it's obviously a huge step forward.
The owners will have to vote on what the negotiators have hammered out, and the players will have to vote to approve the deal as well. Then comes the actual writing of the document — the most recent CBA checked in at around 600 pages containing nearly 5,000 paragraphs and 200,000 words. Much of it will be the same; much of it will need revising.
And while these talks went on for more than a year, this is the second consecutive CBA to be negotiated without the dysfunction that accompanied the talks in 2011 — when the league wound up locking out players for 161 days and had to eventually shorten the 2011-12 season from 82 to 66 games.
There was no appetite for a work stoppage, not after a 2021-22 season in which the NBA revenue topping $10 billion for the first time and basketball-related income reaching $8.9 billion, another record. Silver said the NBA is on pace this season for more sold-out games than ever before.
___
AP NBA: https://apnews.com/hub/NBA and https://twitter.com/AP_Sports
Copyright 2023 The Associated Press. All rights reserved.