Officials: 1 dead, 48 hurt after roof collapse at Belvidere's Apollo Theatre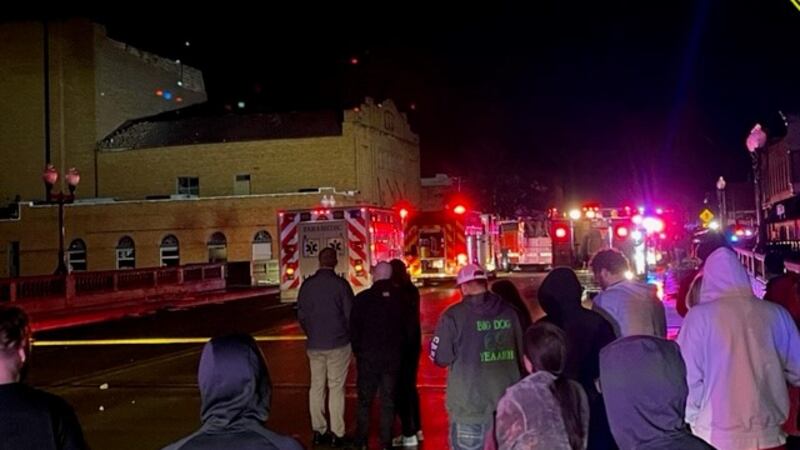 Published: Mar. 31, 2023 at 8:48 PM CDT
BELVIDERE, Ill. (WIFR) - One person, a 51-year-old man, is dead and at least 48 hospitalized after the roof and awning collapsed at the Apollo Theatre in Belvidere Friday night.
In a press release from the Belvidere Fire Department, they state the department was dispatched a little before eight at night to the 104 North State Street for a roof collapse Friday night, which ended up being the Apollo Theatre in Belvidere.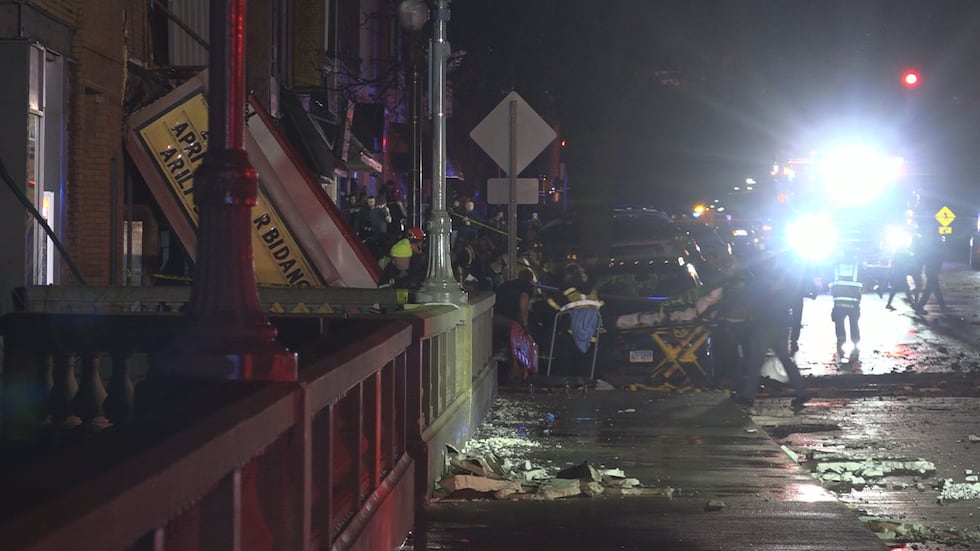 Officials say the call came minutes after receiving word from the National Weather Service about a tornado warning in the area.
Crews learned about 260 people were inside the Apollo Theatre for a concert at the time of the collapse. Preliminary information from officials revealed that one person, a 51-year-old man, died at the scene and dozens were injured. Emergency agencies and law enforcement from around the area were called in to help with the incident.
Seven EMS agencies were called to the scene with some of them making multiple trips to different hospitals, according to the Belvidere Fire Department. A response of more than 100 firefighters and paramedics came from Boone, Winnebago and McHenry County made rescue and evacuation attempts.
Chief Shawn Schadle, with the Belvidere Fire Department, says a treatment, triage and reunification center was set up nearby the fire station where numerous patients were treated. An MABAS 8 Technical resource team, which is a specialized search and rescue team made up of 23 agencies, searched the area until they gave it all clear at 11:06 p.m. There have not been any reports of anyone unaccounted for.
As of Saturday morning, 24 patients remained hospitalized and 24 patients were treated and released. Five of the 28 taken by ambulance remain in critical condition.
In a news release, Mercyhealth said:
"Mercyhealth sends its thoughts and condolences to those affected by last night's weather-related event in Belvidere.

A total of 16 patients were transported to Mercyhealth Javon Bea Hospital-Riverside from the Apollo Theatre. Seven of those patients were admitted to the hospital. Two patients are in fair condition and five are in good condition.

Several other patients arrived at the Emergency Department without emergency transport. They have all been treated and released.

Mercyhealth is proud to be part of a team of health care and EMS agencies that all worked together to mitigate this tragic event while caring for our communities. We are grateful for all of our health care workers who immediately rose to the occasion and collaborated together. Our top priority is always ensuring that our patients and their families receive the world-class care that they deserve."
OSF St. Anthony Medical Center tells 23 News 12 patients were admitted into the hospital ages ranging from 14 to 47 years old. As of Saturday evening, two of those patients are in critical condition while the rest are in fair condition.
Those looking to reunite with their family should call 608-755-8820.
Chief Schadle says in addition to the roof collapse at the Apollo Theatre, a building across the street had severe wind damage. As of Friday evening, both buildings were searched and crews are assessing their structural integrity.
Officials say the crowd at the theatre helped remove debris, freeing those trapped under the collapsed roof of the historic building. They were later evacuated from the building as officials deemed the building unsafe.
Chief Brian Kunce, with the Boone County Fire Protection District #2 says the building will most likely get torn down as it is not structurally sound.
A band was scheduled to perform at the venue, Morbid Angel, posted an update to its fans around 9 p.m. saying the show was canceled "due to a tornado that hit the venue." The post goes on to say the band was sheltering in place and expressed its hope that everyone at the show was okay and able to get home.
The National Weather Service confirmed that an EF-1 tornado moved across portions of Ogle, Winnebago and Boone counties which resulted in 1 fatality and 48 injuries due to the roof collapse at the Apollo Theatre.
Damage assessments of the entire area are being performed, according to the Belvidere Fire Department.
Governor Pritzker tweeted following the roof collapse saying in part, "I've been in touch with officials for updates and to direct any available resources we can."
This story is developing. We have crews in the area and will update you as we learn more.
Copyright 2023 WIFR. All rights reserved.