FIRST ALERT DAY until Wednesday 6 a.m. for severe weather potential
Tornadoes, large hail and damaging possible
Published: Apr. 1, 2023 at 9:41 PM CDT
|
Updated: Apr. 4, 2023 at 4:13 PM CDT
DAVENPORT, Iowa (KWQC) - A FIRST ALERT DAY has been issued by the TV6 First Alert Weather Team until 6 a.m. Wednesday for the potential of severe weather. Damaging winds, large hail and tornadoes are possible. Some tornadoes may be strong and long-tracked.
A TORNADO WATCH is in effect until 10 p.m. for the entire TV6 viewing area.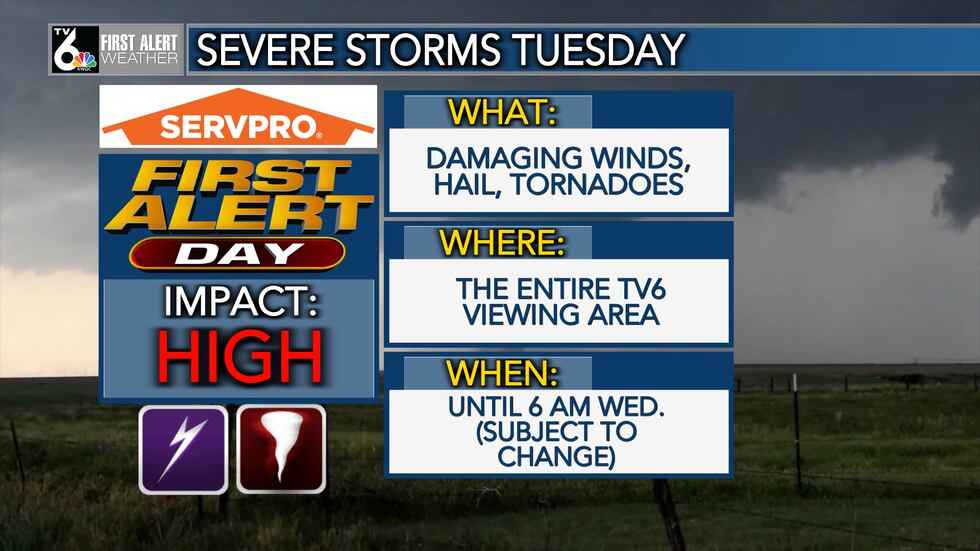 The Storm Prediction Center has put much of the TV6 viewing area at an MODERATE RISK (Level 4 out of 5) for severe weather.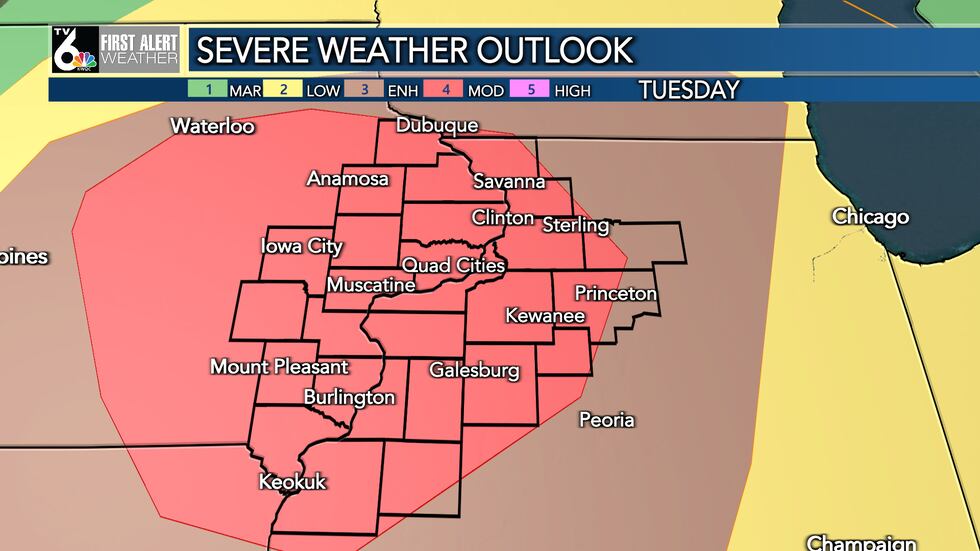 The second round will come between 4 and 10 p.m. with large hail and a few tornadoes possible. This afternoon/evening the cap (lid on atmosphere) will likely break leading to explosive thunderstorm development. This will lead to a strong tornado and large hail threat. With temps in the 70s and even more shear these storms may be stronger than last week, but they will be more isolated in coverage.
This round will wrap up prior to midnight. The third and final round (after 2 a.m.) will arrive along the cold front a little after 3 a.m. Wednesday with a damaging wind and embedded tornado threat. Behind the front the severe threat will diminish and windy conditions arrive cooling us to the 50s and 60s for the rest of the week.
Remember, don't be afraid, just be aware and prepared. Even during the highest threats, staying aware and having a plan is all you need to stay safe.
Download the TV6 Quad Cities Weather App to track the storms with us and get access to the latest forecasts.
FIRST ALERT DAYS are issued to inform you of inconvenient, hazardous, or potentially dangerous weather in our viewing area that could impact you and your family. Look for frequent updates on air, online, on our social media platforms and on the QC Weather App.
Copyright 2023 KWQC. All rights reserved.