Threat of US credit downgrade looms over debt ceiling talks
Published: May. 25, 2023 at 12:47 PM CDT
WASHINGTON (AP) — With one of three major rating agencies warning that America's AAA credit is at risk, the stakes are growing in the standoff in Washington over raising the nation's debt limit.
On Wednesday night, the rating agency Fitch put the nation's credit on "Rating Watch Negative," which amounts to a warning that it might downgrade the U.S. credit as a result of the impasse.
The government reached the $31.4 trillion debt limit in January, and Treasury Secretary Janet Yellen has resorted to "extraordinary measures'' since then to keep paying the bills. But Yellen has warned that Treasury will likely run out of money to meet all its obligations as soon as June 1, which is being described as the "X-date."
In a statement, Fitch said, "We believe risks have risen that the debt limit will not be raised or suspended before the X-date and consequently that the government could begin to miss payments on some of its obligations."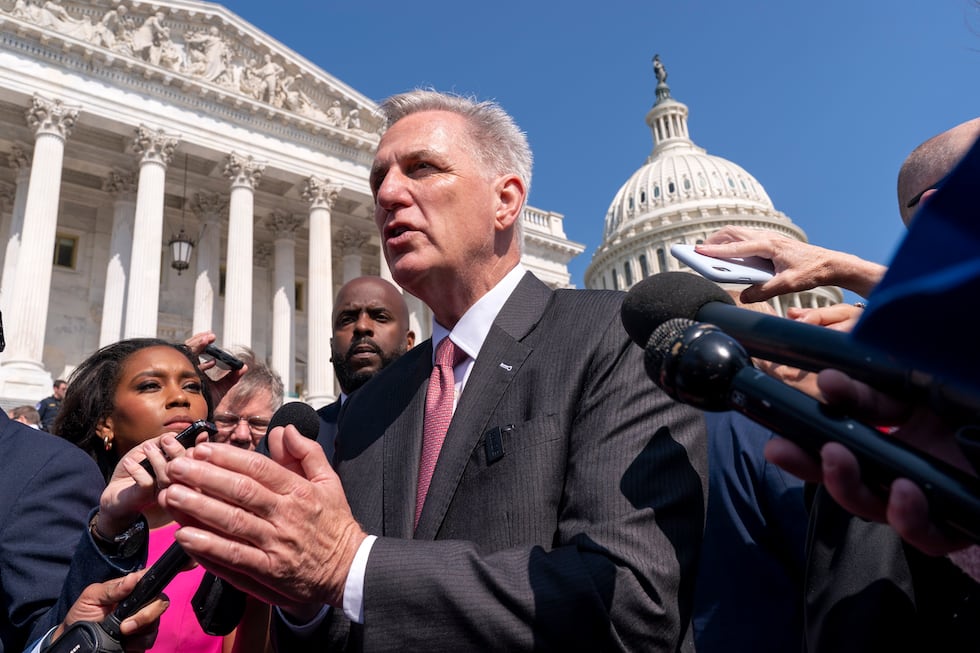 At the same time, Fitch characterized the likelihood that the Treasury will actually default on its debts as "a low probability event."
During a similar showdown in 2011, another rating agency, Standard & Poor's, stripped the United States of its prized AAA rating, pointing to partisan divisions that made it difficult for the nation's biggest economy to control spending or raise taxes enough to reduce its debts. S&P has yet to restore the top rating. During that standoff and again in 2013 Fitch put America's credit on a "negative'' watch but never dropped its top credit rating.
If rating agencies like Fitch were to actually downgrade America's debt, it would mean that Washington would have to pay higher interest rates on Treasury bonds, notes and bills. The Government Accountability Office, in a 2012 report, estimated that the 2011 standoff raised Treasury's borrowing costs by $1.3 billion that year.
Further downgrades on U.S. debt could make it harder for pension funds and other institutional investors to hold the bonds, because many have rules limiting their ability to invest in lower-rated debt. In 2011, after S&P's downgrade, the Federal Reserve and other banking regulators issued a statement stipulating that Treasury securities would still be considered ultra-safe assets for banks to hold in reserve.
The U.S. government spends far more than it collects in tax revenue and has to borrow the difference. But a quirk in U.S. law requires Congress to periodically raise the government's debt limit. Raising the threshold does not authorize new spending. It simply allows Treasury to borrow to pay expenses Congress has already approved. Lawmakers have raised, revised or extended the borrowing cap 78 times since 1960, most recently in 2021.
But Republicans are refusing to raise the debt limit unless President Joe Biden and Democrats make concessions, including big spending cuts. Negotiations to resolve the dispute are ongoing, but House Republicans were set to leave Washington on Thursday for the Memorial Day weekend.
In its statement Wednesday, Fitch warned: "The brinkmanship over the debt ceiling, failure of the U.S. authorities to meaningfully tackle medium-term fiscal challenges that will lead to rising budget deficits and a growing debt burden signal downside risks to U.S. creditworthiness.''
Joe Brusuelas, chief economist at RSM, a tax advisory firm, said that the standoff will likely cause stock prices to fall and reduce the value of Americans' retirement accounts.
"This is an artificial crisis that has nothing to do with the underlying health of the American economy, excessive imbalances or malinvestment within financial markets or the security of the country,'' Brusuelas said. "It is time to bring it to an end.''
Lily Adams, a Treasury spokeswoman, said, "As Secretary Yellen has warned for months, brinkmanship over the debt limit does serious harm to businesses and American families, raises short-term borrowing costs for taxpayers, and threatens the credit rating of the United States."
Fitch's "warning underscores the need for swift bipartisan action by Congress to raise or suspend the debt limit and avoid a manufactured crisis for our economy," Adams added.
____
AP Writer Fatima Hussein in Washington contributed to this report.
Copyright 2023 The Associated Press. All rights reserved.