Haze from Canadian wildfires eases as reinforcements from abroad arrive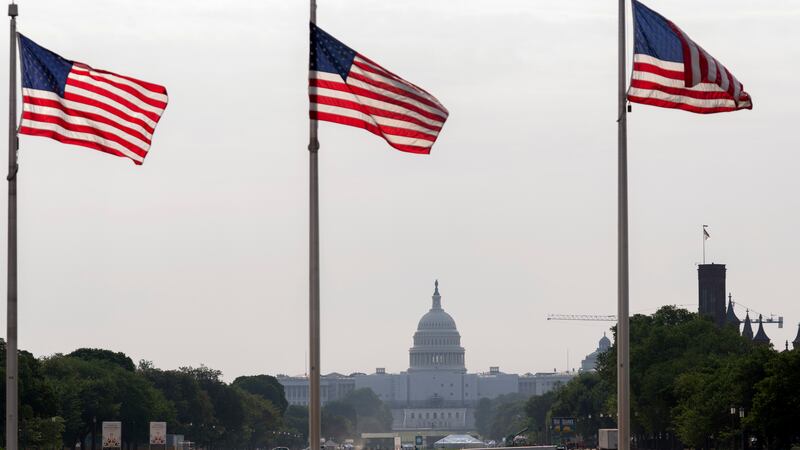 Published: Jun. 9, 2023 at 4:02 PM CDT
|
Updated: Jun. 9, 2023 at 4:05 PM CDT
MONTREAL (AP) — The hazardous haze from wildfires in Canada's northeast eased there and throughout much of northeastern United States on Friday, but Canadian officials warned it could be a marathon fire season and welcomed the help of firefighters arriving from other countries.
A contingent of 100 French firefighters landed in Canada and was en route to the fire region Friday. Hundreds more are expected to arrive from the U.S., Portugal and Spain in the coming days, and there should be about 1,200 people fighting fires in the province of Quebec by Monday, said Public Security Minister François Bonnardel.
The thick wildfire smoke that loomed over daily life this week for millions of people in Canada and parts of the U.S. East Coast has mostly dissipated, U.S. and Canadian officials said.
"We're doing a lot better," U.S. National Weather Service meteorologist Bryan Putnam said. "It looks like there is less smoke being produced in Canada."
He said the weather pattern seems to be the same, but there is less smoke.
Maïté Blanchette Vézina, Quebec's minister of forests and natural resources, said the situation in the province remains critical but is improving.
The province's forest fire prevention agency said the additional firefighters is a sign "the sprint phase has ended and we're now in the marathon phase," she told a Quebec City briefing.
Blanchette Vézina said efforts in the coming days will permit firefighters to contain and begin extinguishing some of the roughly 140 fires that remained active across Quebec on Friday, including some that have been allowed to burn freely due to a lack of personnel.
She said the improved situation is also allowing the province to lift the ban on activities in the woods in most of the Côte-Nord and parts of the Saguenay-Lac-St-Jean regions, although forestry work and all forms of fires are still prohibited.
As of Friday, the fires had forced more than 13,500 Canadians from their homes, many of them in the northern municipalities of Chibougamau and Lebel-sur-Quévillon. About 50 people were also evacuated from a detention center in Amos, Quebec, as a preventive measure, Bonnardel said.
Despite the stabilizing situation, Bonnardel said it was likely many of the evacuees wouldn't be able to return home before next week.
He announced the province would offer $1,500 Canadian (US$1,224) to each household that was evacuated and would fully reimburse affected municipalities for the costs they incurred to run shelters, manage evacuations and fight fires.
Quebec's forest fire prevention agency has described the current wildfire season as the worst on record. The province has reported a total of 444 wildfires so far this year, compared to an average of 207 at the same date during prior years.
Experts says the wildfires have been fueled by an unusually dry and warm period in spring, and no rains are expected until next week.
Canadian officials say there have been no reports of injuries and deaths so far from the fires.
In Nova Scotia, meanwhile, most evacuation orders were lifted Friday, almost two weeks after a series of unprecedented wildfires broke out in the southwestern corner of the province and in suburban Halifax.
Officials in Shelburne County, where the largest wildfire in the province's history continued to burn out of control, lifted all evacuation orders at noon. The wildfire there, which started May 27 near Barrington Lake, hasn't grown since the weekend thanks to the work of firefighters and the wet, cool weather.
The Barrington Lake fire forced more than 6,000 people from their homes and destroyed 60 homes and cottages, as well as 150 other structures.
Wildfire smoke that hung over Toronto for several days has now cleared, resulting in a notable improvement in air quality for Canada's most populous city, but the haze is persisting in western Quebec, Saskatchewan, Alberta and parts of British Columbia.
Copyright 2023 The Associated Press. All rights reserved.