Maquoketa's annual Maqtoberfest returns for 5th year
Published: Sep. 12, 2023 at 3:41 PM CDT
MAQUOKETA, Iowa (KWQC) - The annual Maqtoberfest, a day-long street festival with music, food and downtown fun will return for a fifth year.
Maqtoberfest will be held on Saturday, Sept. 16 from 11 a.m. to 6 p.m. in the downtown Green Space and the 100 block of South Main Street, according to event organizers. This is a free, family-friendly outdoor event that will feature a full lineup of events.
According to event organizers, Maqtoberfest's schedule is as follows:
Vendors from 11 a.m. to 2 p.m.

Games, make-and-take activities and information booths 11 a.m. to 2 p.m.

Chalk the walk- 11 a.m. to 2:30 p.m. - an open non-competitive sidewalk chalk art activity. Participants can sign up for a drawing for prizes. Prizes will be announced at 2:30 p.m. from the Main Street Stage. Must be present to win

National Anthem-Maquoketa Middle School Ensemble at 11 a.m.

Lori Schnoor- entertainment at 11:15 a.m.

Dan Holm & David Manning- entertainment at noon

Stepped Up Line Dancing- entertainment at 12:45 p.m.

Fifth Avenue Saxes- entertainment at 1:30 p.m.

Concert with 3 Day Rain, a Chicagoland area country and rock band- entertainment from 6 p.m. to 8 p.m.
For additional information about Maqtoberfest, click here.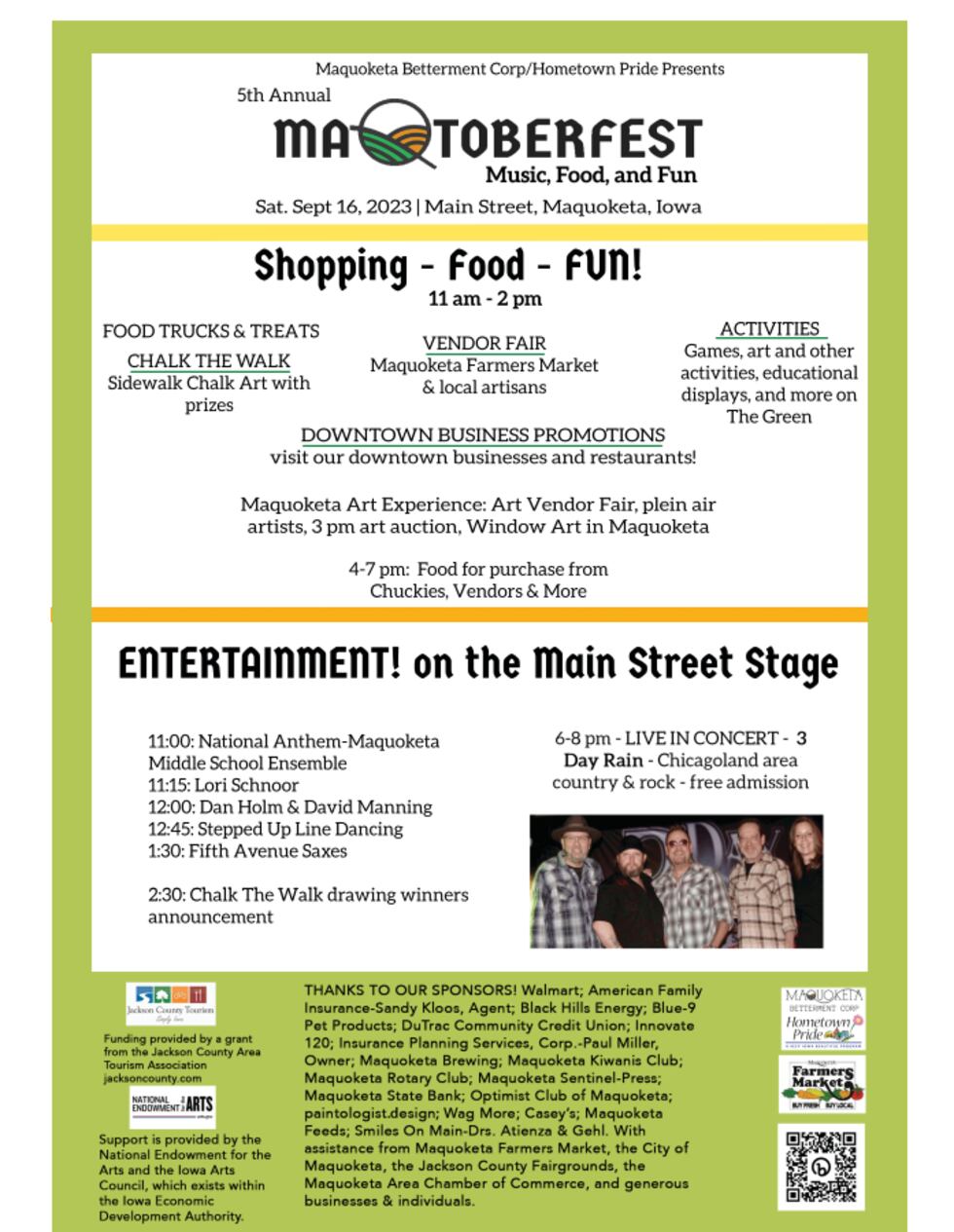 Copyright 2023 KWQC. All rights reserved.