Bettendorf begins final phase of the Forest Grove Drive Project Monday
Published: Sep. 25, 2023 at 9:00 AM CDT
BETTENDORF, Iowa (KWQC) -The City of Bettendorf will start its final phase of The Forest Grove Drive Reconstruction Project Monday, after beginning work in 2022.
After some roads have been closed, Bettendorf says three roads in the area will open up to traffic on Monday.
The following road openings will be:
Middle Road South of Forest Grove Drive

Forest Grove Drive and Middle Road

Forest Grove Drive and Championship Drive (West of Middle Road)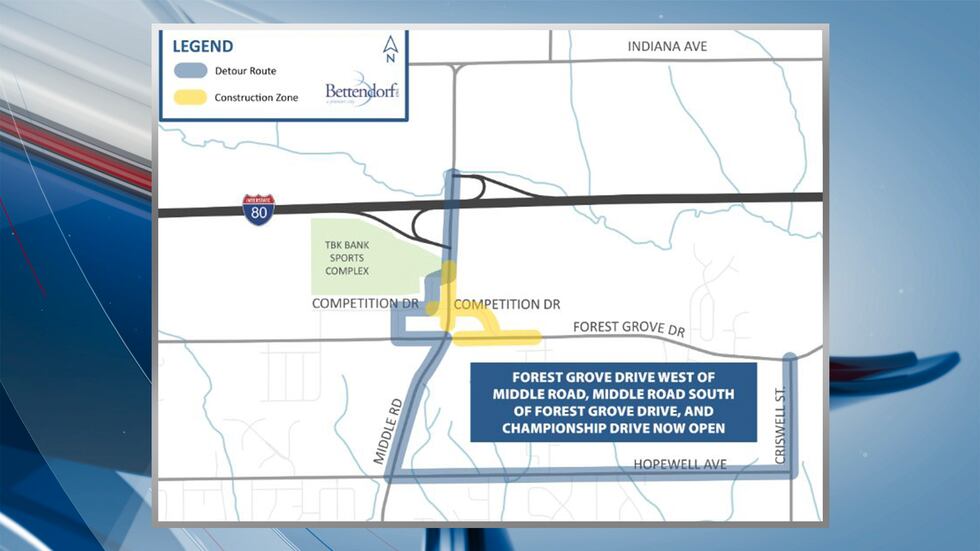 Bettendorf says the roads will be used as the detour routes for Middle Road traffic. Also, the Competition Drive and Forest Grove Drive intersection, east of Middle Road will be closed according to the city.
The city initially began the road work in the area because of deterioration and recent major developments. One of the major developments that's happening is the construction of Iron Tee Golf.
The improvements being completed during the Forest Grove Drive project include widening the roads to allow for more traffic, adding roundabouts to keep vehicles moving smoothly and bike and pedestrian trails will also be built.
According to Bettendorf, the Forest Grove Drive Project is being funded by millions in federal aid along with money from the city and an I-DOT grant.
Copyright 2023 KWQC. All rights reserved.