Davenport Community School District welcomes new student board members
Published: Sep. 28, 2023 at 5:17 PM CDT
DAVENPORT, Iowa (KWQC) - Davenport Community School District introduced its newest student board members at its Tuesday night school board meeting.
Students selected include Nhi Nguyen, Reuben Leveridge and Jack Stremlow of Davenport Central, Elaina Phommivong and Ethan Cepeda of Davenport North, LA Mangels and JCianna from MidCity, and Makenna Burt and Vy (Julie) Nguyen from Davenport West, according to a media release from a district spokesperson.
The student board attends all meetings, delivers reports from their schools, and is open to comment on items discussed during the meetings.
Each took different journeys to the role, the district spokesperson stated. Some were selected by teachers, others had to go through an application process, but all were thrilled to have the experience.
"It's great to have kids who are really exited to be involved with what's going on," said Davenport West Principal Cory Williams. "They're already high achievers and self-starters, and it'll be a great experience for them."
The new student representatives will hold their positions throughout the 2023-24 school year, according to the media release. Students interested on serving on future school boards are encouraged to talk to their school principals about the opportunity.
District officials say to learn more about Davenport Community Schools, visit www.davenportschools.org.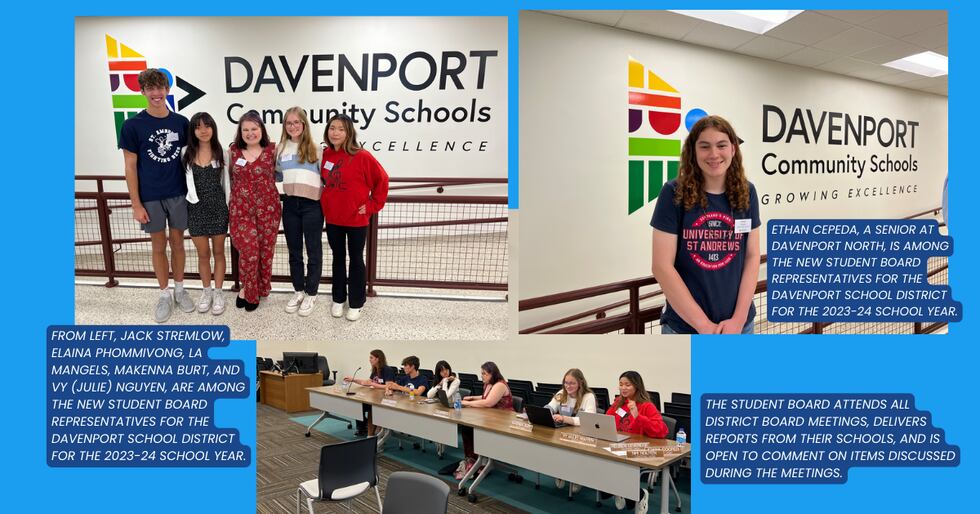 Copyright 2023 KWQC. All rights reserved.