How common are 80°+ temperatures in October?
Published: Oct. 3, 2023 at 10:26 AM CDT
QUAD CITIES, Iowa/Ill. (KWQC) - Typically, October starts out with average high temperature in the upper 70s and average lows in the upper 40s.
By Halloween, the averages drop to 58° and 37°, respectively. We also lose about an hour and a half of daylight during the month in the Quad Cities.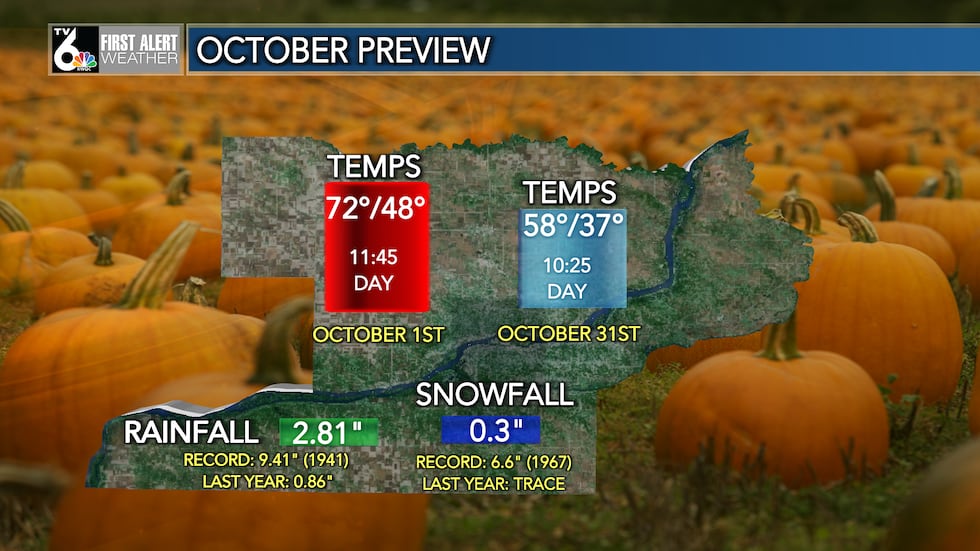 High temperatures on the first two days of October were well into the 80s, with some locations getting close to the 90° mark.
Looking at records dating back to 1871 for the Moline area (official climate site for the area), the Quad Cities has an average of 2.8 days with temperatures in the 80s during the month of October, so roughly three days.
The October with the most number of 80° warmer days was back in 1947, where 13 days featured the 80s.
Click here for the latest First Alert Forecast.
Copyright 2023 KWQC. All rights reserved.