NOAA releases 2023-2024 winter outlook
Published: Oct. 19, 2023 at 10:16 AM CDT
|
Updated: Oct. 19, 2023 at 12:11 PM CDT
QUAD CITIES, Iowa/Ill. (KWQC) - The National Oceanic and Atmospheric Administration (NOAA) released its first 2023-2024 winter season outlook.
Climatologists have looked at the weather patterns across the globe to predict what this winter could look like here in the United States.
El Niño is present in the Pacific Ocean, meaning warmer than normal water temperatures, which affects the weather across the world. The warmer temperatures lead to a stronger Pacific jet stream, and it tends to track farther south, keeping the general storm track farther south.
What does it look like for the Quad Cities? The three month outlook for December, January and February shows a higher probability of above normal temperatures for the northern tier of the United States, including the Quad Cities area.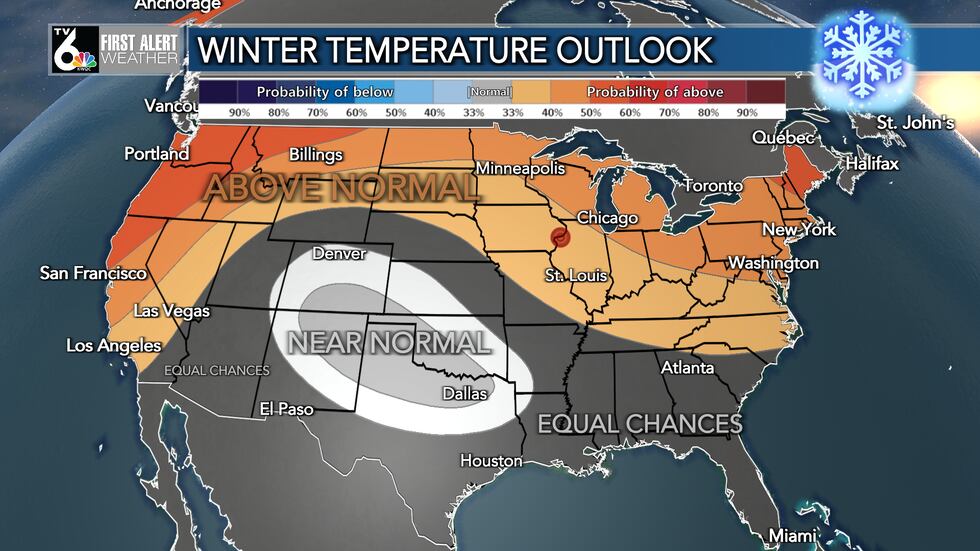 As far as the precipitation pattern, the Quad Cities has equal chances of an above, near normal or below average season. There aren't any signs of the season going one way or the other. Of course, this can change based on strength of storms and amount of cold air or warm air present.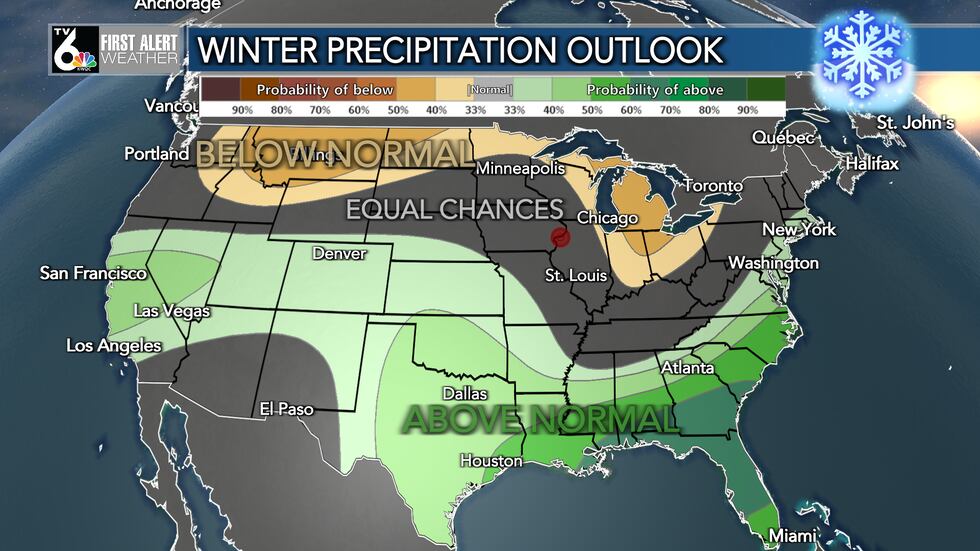 What does a typical winter look like here in the Quad Cities?
Looking back at weather data over the 30-year period of 1991 to 2020. The average seasonal snowfall in the quad cities, at least at the Quad Cities in Moline, is 36.1″. This is where the official snowfall measurements are taken for record purposes.
The most snowfall during the winter season happened in the 1974 and 1975 season where 69.7 inches of snow fell.
The least snowiest was in the 30s, where 9.9 inches of snow fell during the winter of 1936 and 37.
Believe it or not, we do average three tenths of an inch of snow during the month of October in the Quad Cities, due to snowfall in the last few years. We won't be seeing any snow the rest of this month.
Click here for the latest First Alert Forecast.
November averages more than 2″ of snow.
Nearly 9″ falls in December, with nearly 11″ in January.
February also average almost 9″, with about 5.5″ on average in March and April.
Three years ago on October 19, 2020 we had an early season snowfall across Iowa and parts of Illinois.
A band of snow developed in eastern Nebraska and traveled across the state, mainly between the Highway 30 and Interstate 80 corridor. The bullseye was 8″ of snow in the Des Moines metro, with 3″ to 4″ in the Cedar Rapids area.
Here at home snowfall totals ranged from just a dusting to about 2″.
Charlotte, IA: 2″

Park View, IA: 1.2″

Mount Carroll, IL: 1.0″

Maquoketa, IA: 0.9″

Geneseo, IL.: 0.5″

Moline, IL.: 0.3″

Davenport, IA: 0.2″

Muscatine, IA: 0.2″
Copyright 2023 KWQC. All rights reserved.