Schools across the country turn to local former teachers for security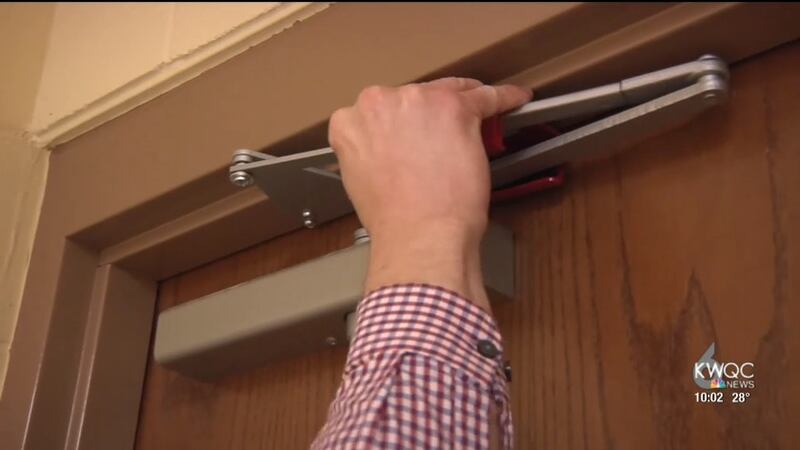 Published: Feb. 21, 2018 at 10:30 PM CST
In the wake of the Florida shooting, educators are looking for ways to keep their classrooms safe in the event of a threat.
Since that day, Fighting Chance Solutions, a company founded by former Muscatine teachers is seeing an increase in their sales of "The Sleeve," a product which was made in 2014, as a method to keep intruders from getting access into classrooms. The company is receiving thousands of visits from all over the country to their website every day.
"I've never seen website numbers like this, I've never seen order numbers like this," said the President of Fighting Chance Solutions, Daniel Nietzel. "One of our biggest problems right now is keeping our website from crashing."
One teacher that's taken advantage of the product is a Religion teacher at Saints Mary & Mathis Catholic School, Pat Phillips. Florida still weighing heavy on her mind. "I was so proud of those teachers that they took upon themselves, they knew what their job was and that was to protect all of their students that were available to them," Phillips said.
To her, this product could be a lifesaver. "It's like a reaction type tool that gives you an immediate sense of a little bit of security, and at least buys you some time," Phillips said.
Nietzel says some teachers from Sandy Hook Elementary, and the Florida shootings, lost their lives protecting kids because many had to lock their doors from the outside, this product protects you from inside.
Nietzel says he's had conversations with people who've witnessed Las Vegas shootings, mothers of children who went to school in the same Florida district, he says his journey to help keep people safe has been emotional.
"I talked to two teachers that were in lockdowns in that same district that Thursday cause they were still having scares, one of them was in tears, talking to me saying how can we get your product," Neitzel said.
Although it's a product he hopes many educators never have to use he feels he and his team are doing something that will make a difference, and potentially save lives.
"People just want to do something, people are tired of sitting back, people just want to do something, There is that level of assurance that we're trying to do a good thing, we're trying to help," he said.
Anyone interested in buying one of "The Sleeves" can do so here https://fightingchancesolutions.com/