Quad Cities' Meatloaf the cat dies of liver disease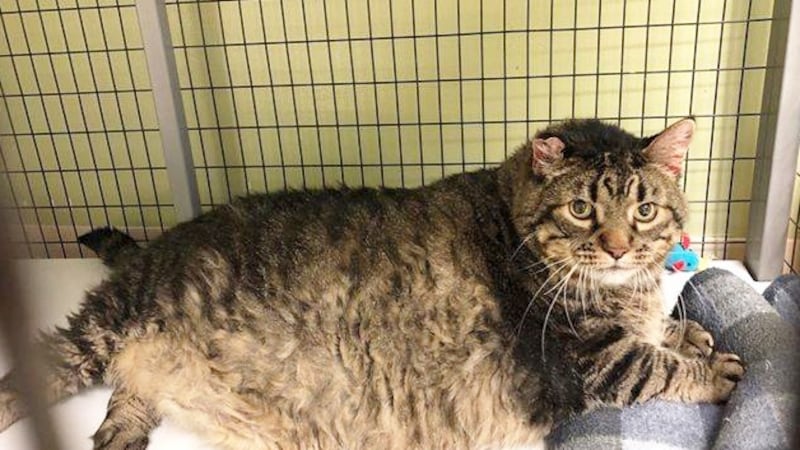 Published: Sep. 10, 2018 at 3:31 PM CDT
A feline at a Davenport, Iowa animal shelter
because of his large size died on Saturday, only 19 days after being adopted.
Meatloaf, who at the age of 11 weighed 30 pounds, needed a loving owner and a diet plan.
He got both on August 20, less than a week after going viral, when Steve Gusman and fiancée Mary Armstrong of Moline
.
"He is doing very well, enjoying the attention and going up and down stairs himself and chasing toys," Armstrong told KWQC a few days after Meatloaf had settled into his new home.
Meatloaf also seemed to be doing well on a regimen of special weight-control cat food.
Then, last Saturday afternoon, he was rushed to a vet hospital where he passed away after he had begun "acting funny" and appearing jaundiced.
"It was liver disease from the human food he ate [before being adopted]," Armstrong said.
Gusman and Armstrong had adopted Meatloaf to be a therapy cat for Gusman, an Iraq war veteran coping with PTSD.
"Steve is taking this very hard," Armstrong said.
"It took him 10 years to get Meatloaf after our first cat, Tiger, passed."
Still, Armstrong is glad Meatloaf was part of her family for 19 days.
"I'm just really glad he got to have his last days in a loving home. We were there for him as much as he was for us. Hard to walk into our house and not have him greet us at the door."