TV6 livestreams and moderates Davenport School Board Candidate Forum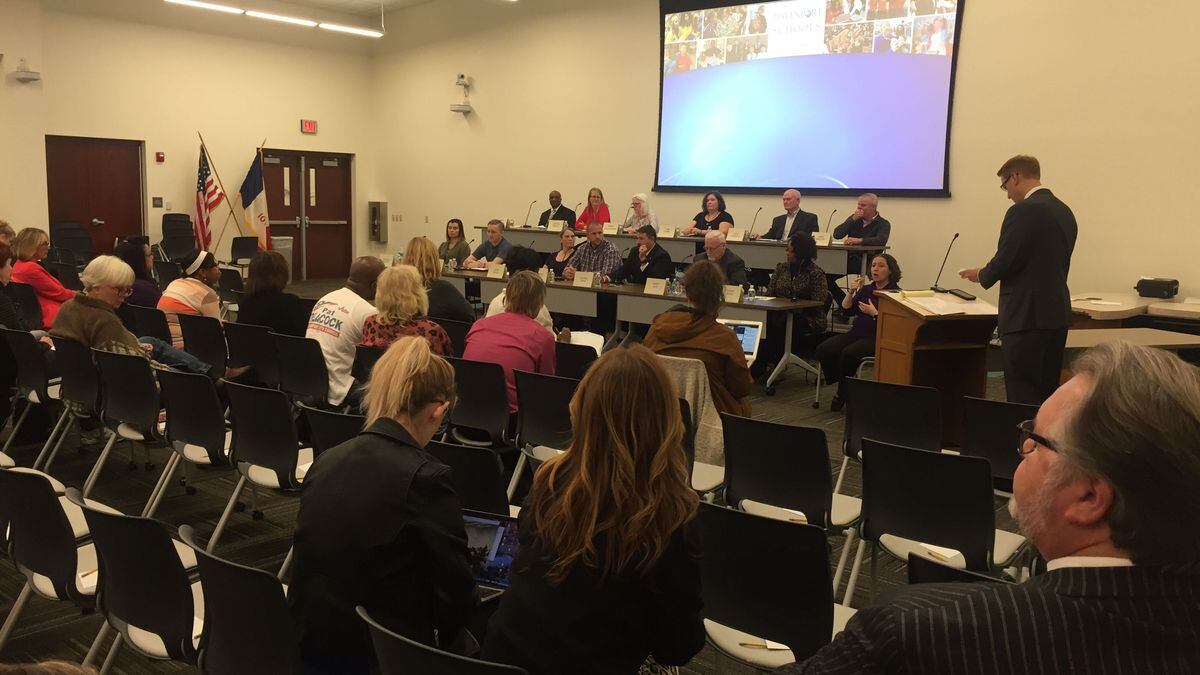 Published: Oct. 14, 2019 at 12:36 PM CDT
More than 100 people showed up to watch the Davenport School Board Candidate Forum Monday night at the Achievement Service Center in Davenport.
Thirteen of the 14 candidates were present, addressing issues including decreasing enrollment, achievement gaps among students of color and students from poorer backgrounds, making difficult budgetary decisions, scheduling, discipline in schools
between students, staff and security personnel and the
to a local non-profit for $30,000.
When asked about the issues facing the school system right now, most of the candidates said the most important issue is the budget and fiscal responsibility.
Jennifer Starr, one of the 14 candidates was not present at the forum due to a personal emergency.
The questions candidates faced are as follows. The answers to the questions can be viewed above:
Question 1: As a school board member, you are responsible for the oversight of facilities management, which includes buying, selling and leasing properties. As you know, the board recently accepted an offer of $30,000 for the former Lincoln School instead of a higher offer. As a school board member, could you support a similar decision in the future?
Question 2: The topic is declining enrollment. The Davenport Community School District has experienced declining enrollment for a number of years now. As a board member, what do you propose should be done as a way of increasing enrollment?
Question 3: Schools throughout Iowa are experiencing achievement gaps, especially among students of color and those from low-income families. What course of action do you propose to help close that gap?
Question 4: What abilities and experiences do you bring to the table that would assist with making difficult budgetary decisions, i.e. reducing staff or closing a school?
Question 5: Recently, there have been a number of incidents, altercations in Davenport schools between students and between students and staff or security personnel. What should be done to address this behavior by students and how would you ensure disciplinary action is taken consistently?
Question 6 from audience: Block scheduling at the high schools were instituted some years ago, but now students will be transitioning back to traditional schedules. Which one is correct and why do you feel that way?
Question 7: There are many issues facing the system right now. In your opinion, what is the single most important one that needs attention and why?
TV6 will be livestreaming the Davenport School Board Candidate Forum that will be happening on Monday, Oct. 21. This will begin at 5 and is expected to go until 7:30 p.m.
KWQC's David Nelson will be moderating the event.
The event will be held in the Jim Hester Board Room, Second Floor of the Achievement Service Center. This is located at 1702 North Main Street in Davenport.
Each of the 14 candidates has been invited to participate.
TV6 will livestream the event on KWQC Cozi (D3) and will livestream it on our website as well.
The public is invited to attend.
There are four open seats for the school board and the candidates are listed below.
- Mark Holloway
- Karen Kline-Jerome
- Kent Paustian
- Michale DeVol
- Jenner Kealey
- Kai Dickmann
- Dan Gosa (i)
- Jennifer Starr
- Catarina Bolton
- Kari Dugan
- Lori Janke
- Craig Piggott
- Linda Hayes (i)
- Gene Guy
Please click