What you need to know for the Quad Cities Big Table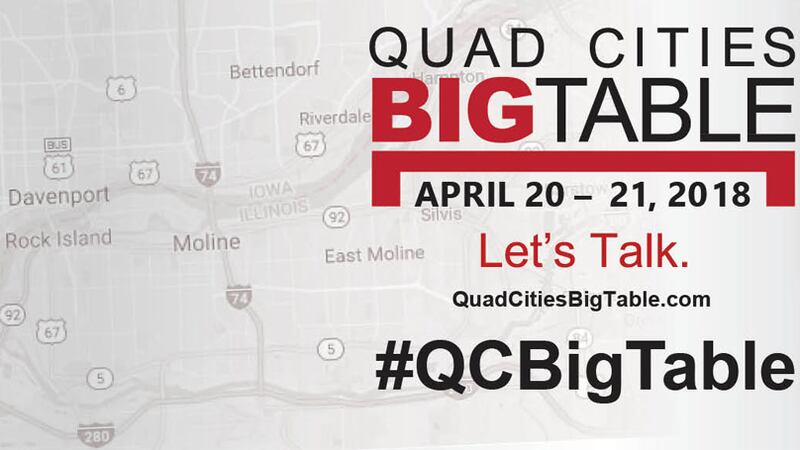 Published: Apr. 13, 2018 at 4:37 PM CDT
5000 Quad Cities residents from all walks of life will be coming together to hold hour-long conversations to discuss how to build and support a connected, inclusive and supportive community. These small group conversations, at locations and times, decided by the participants, on either April 20 or 21 will be continued through social media using #QCBigTable. There is no cost to participate. Signing up is available on the
website; our Digital Producer Sarah Beth Coleman has created a video walkthrough on how to register using the site.
Tables will be organized and guided by table hosts who will receive training and a toolkit in advance of the community-wide event. The topics, issues, and ideas discussed during each of the gatherings will be driven by the interests and perspectives of the participants and the opportunities and challenges that are most important to them.
Following the Quad Cities Big Table weekend, the participants will receive a brief email survey. It will ask about people's experience with the project, the topics their group discussed and the extent to which this experience may impact their future level of civic engagement.
Q2030 and its partners will publicly share these outcomes, including trends, common themes and new collaborations developed to advance some of the ideas and solutions generated. Quad Cities' area residents will be able to view the results, learn more about issues affecting our region, and become more engaged and active in shaping our community's future.
The goals of the Quad Cities Big Table are as follows; to empower action, to inspire collaboration, to grow civic pride and engagement, to spark problem-solving, to unleash the potential for individual leadership, and to foster understanding of one another.
The Quad Cities Big Table is a community engagement initiative supported by the Q2030 Steering Committee and various businesses and non-profit organizations. KWQC TV-6 is a media partner. The Quad Cities Big Table is modeled after Columbus Community Foundation's Big Table.
A printable summary, a poster on supporting the Quad Cities Big Table and FAQs are available as related documents with this article.
The following are links to QC2030 social media, highlighting the #QCBigTable