Wilton teen honored with lifesaving award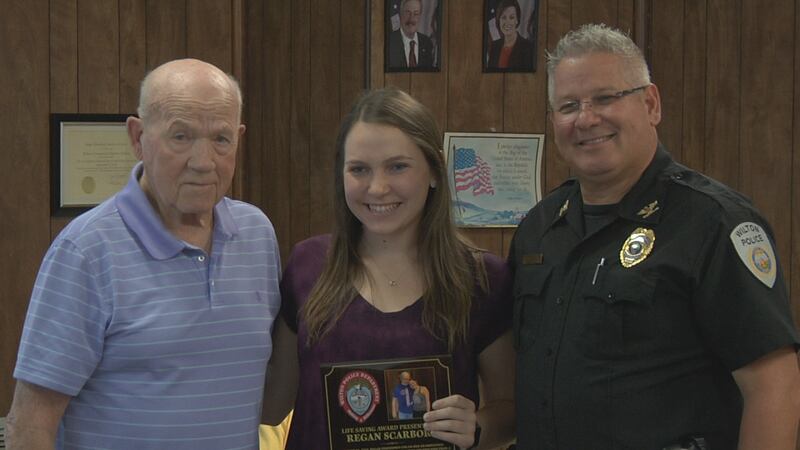 Published: Aug. 27, 2018 at 9:35 PM CDT
On June 26, 18-year-old Regan Scarvoro saved her grandfather's life.
Ron Symmonds was suffering from a heart attack. But his granddaughter quickly jumped into action.
"After witnessing him go unconscious after a heart attack, Regan helped him to the floor, she went right into her life-saving training and quickly started CPR," said Wilton Chief of Police Tim Leathers, reading from the plaque he bestowed on the teen Monday night.
Scarvoro says she got CPR certified because she works at a daycare. But she never thought she would actually need to use it.
"But then when the time came around, I knew exactly what to do and we ended up with a successful story," Scarvoro said.
Chief Leathers says when he arrived on the scene, Scarvoro was calm and level-headed. The two were able to get Symmonds conscious before paramedics arrived and he remains impressed with the teen's actions.
"I'd cover a code with her any day," Leathers said.
Scarvoro says she the whole incident is sort of a blur. All she remembers is putting her training into action.
"It just felt like everything was going in slow motion and so fast I didn't even have time to think about what was going on," Scarvoro said. "Just like there was no other option so I had to try to do what I could to help."
The 18-year-old is heading off to college soon. Although she is currently undecided, Scarvoro says she is now considering a major in nursing.