Kindergarten roundup begins in Davenport; will be virtual for many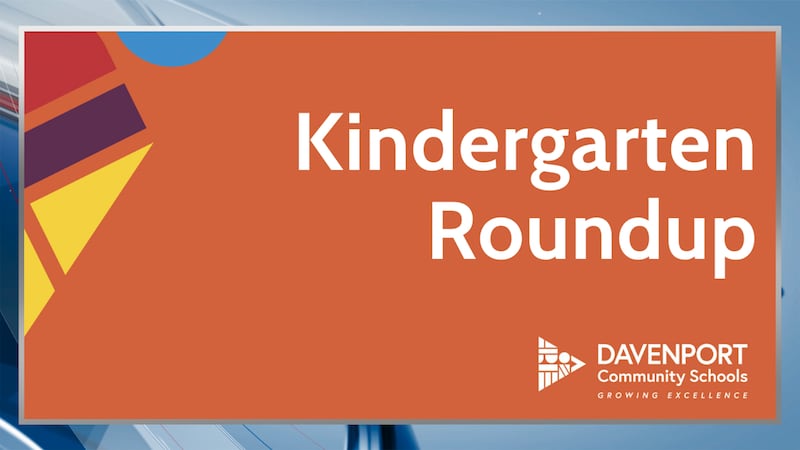 Published: Mar. 4, 2021 at 12:40 PM CST
DAVENPORT, Iowa (KWQC) - Kindergarten Roundup began Thursday, March 4 in Davenport and for many district schools, it will be held virtually.
Davenport Community School District officials say those eligible kindergarten students living in the district will be able to learn more about the specific school they will be attending. They will also learn about the registration that is necessary and the materials that are needed.
Parents and guardians will also get to see what a typical day in the life of their 2021 Kindergarten student will be like.
Additional information provided in the Roundup presentations includes:
Meal services

Before and after school programming

School assessments and calendars

Education screenings and delays

PTA general information

Q&A session with principals
Kindergarten Roundup Dates & Links, by School:
Kindergarten Roundup information for Adams, Blue Grass, Buchanan, Buffalo, Garfield, Harrison, Hayes, Jackson, Jefferson, Madison, Monroe, Truman, and Wilson will be available on the individual school's websites and www.davenportschools.org as it becomes available.
While this event is virtual, district officials hope that parents or guardians will be able to physically visit classrooms with their kindergarten student(s) this summer before the 2021-2022 school year begins.
Families may register their incoming Kindergartener online for the 2021 – 2022 school year by visiting www.davenportschools.org.
Students enrolling in Kindergarten must be 5 years old on, or before, September 15, 2021. A parent or guardian's home address is used to determine which Davenport Community School boundary they reside in for enrollment.
To find a student's "home school," please visit www.davenportschools.org and click the "Find Your School" link in the right-hand column. Families of incoming Kindergarteners should plan to register at the Elementary School shown in the search results.
Copyright 2021 KWQC. All rights reserved.